Lt. Joseph Szczerba
July 11, 1994 to September 16, 2011
Killed in the Line of Duty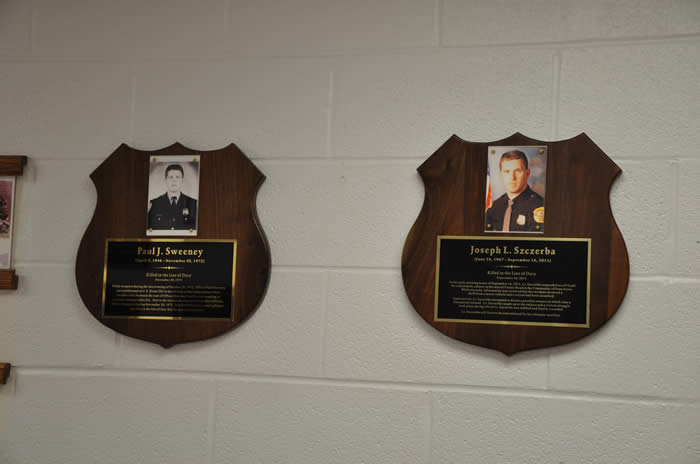 On Sunday September 16, 2012, the New Castle County Police Academy located in Kimberton outside Newark was renamed. The Police Academy was dedicated and renamed in memory of Lt. Joseph Szczerba on the anniversary of him being killed in the line of duty.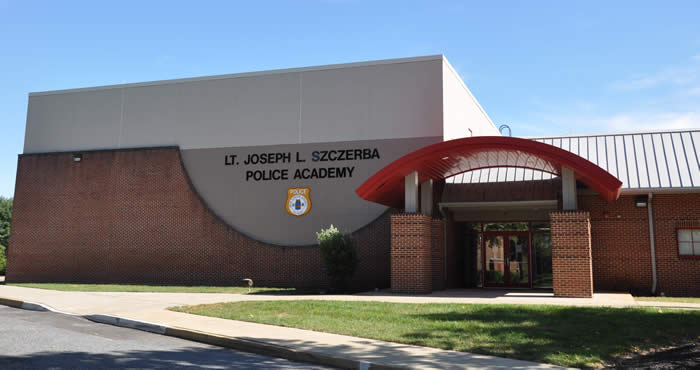 Police Academy Lobby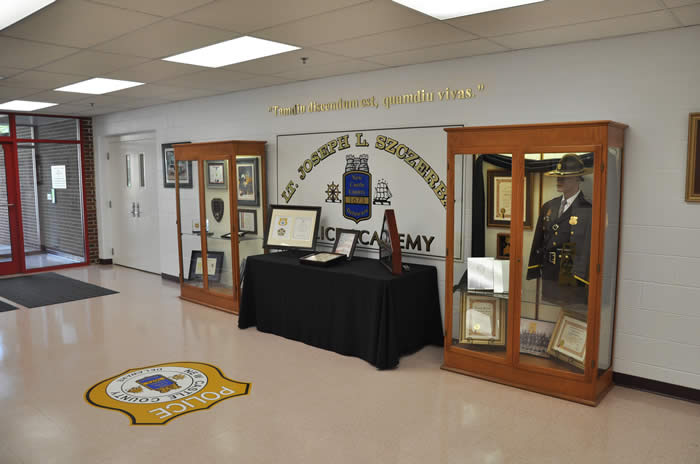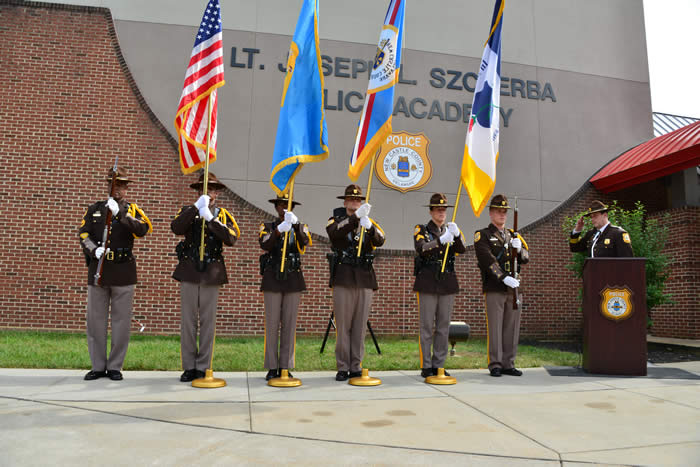 Numerous Dignitaries Spoke at the Dedication
Colonel Scott McLaren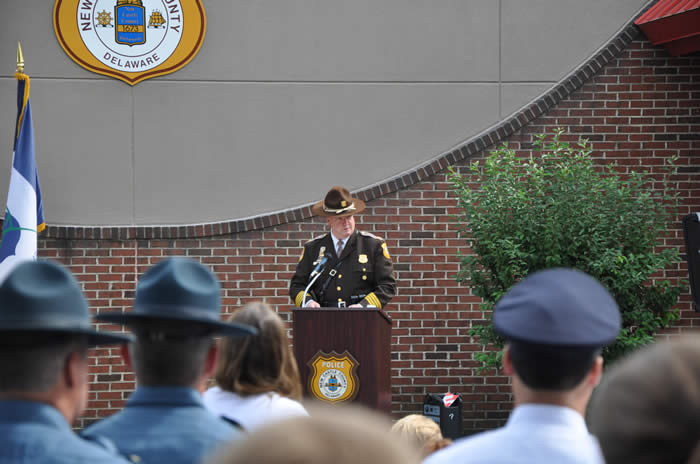 County Executive Paul Clark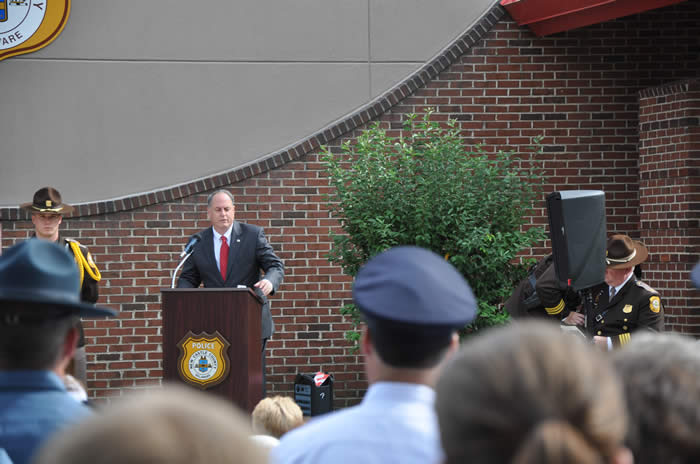 Senator Chris Coons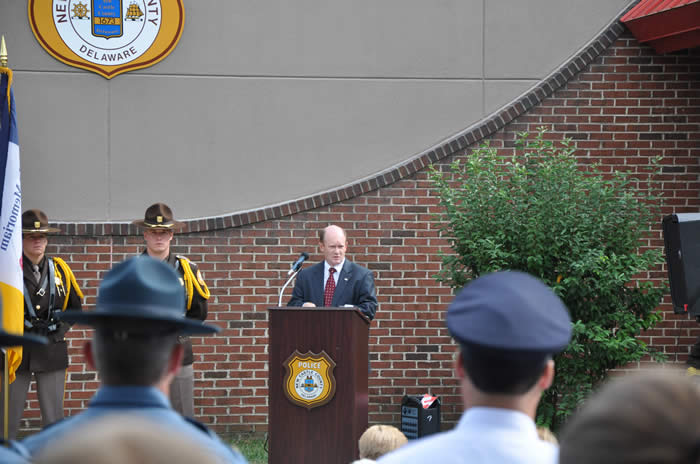 Senator Carper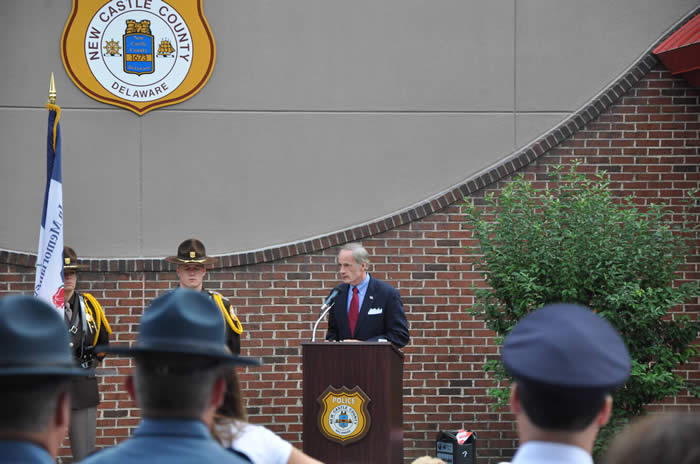 COPS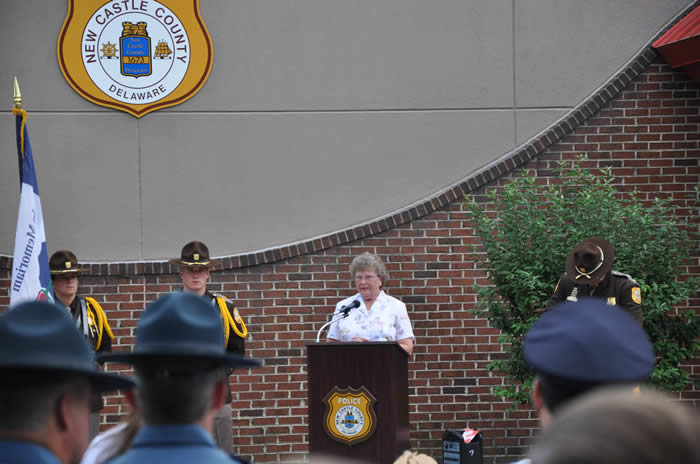 Proclamation by County Council and the Executive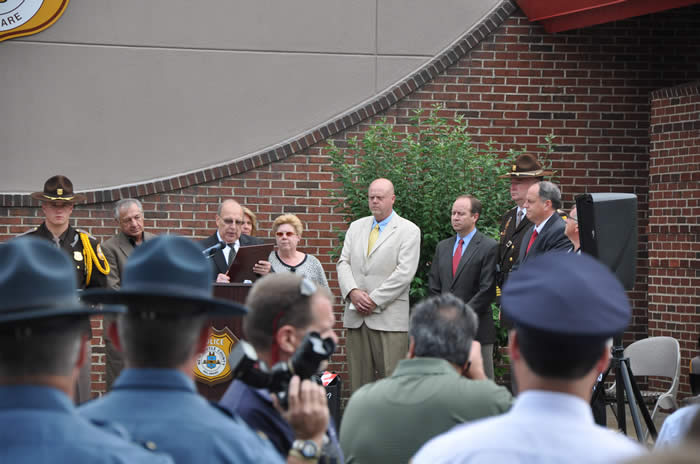 FOP Lodge 5 President Mike Zielinski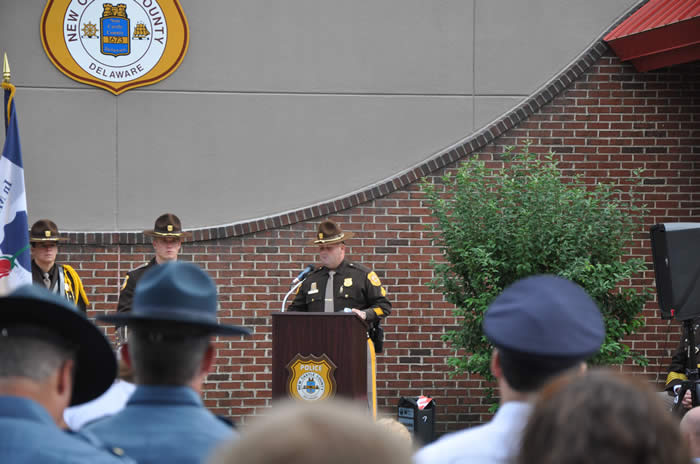 Cathy Szczerba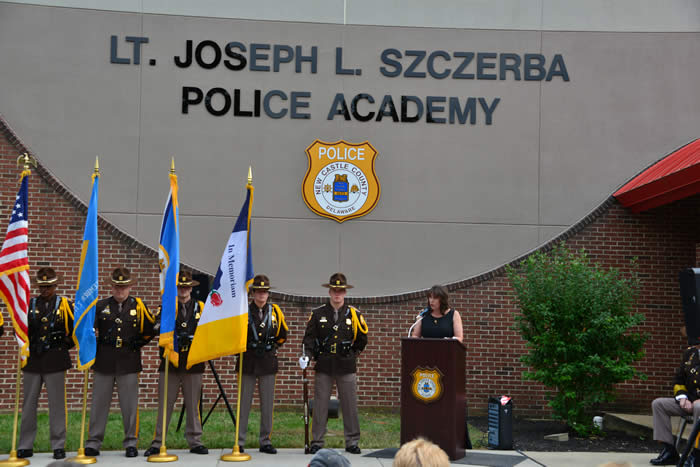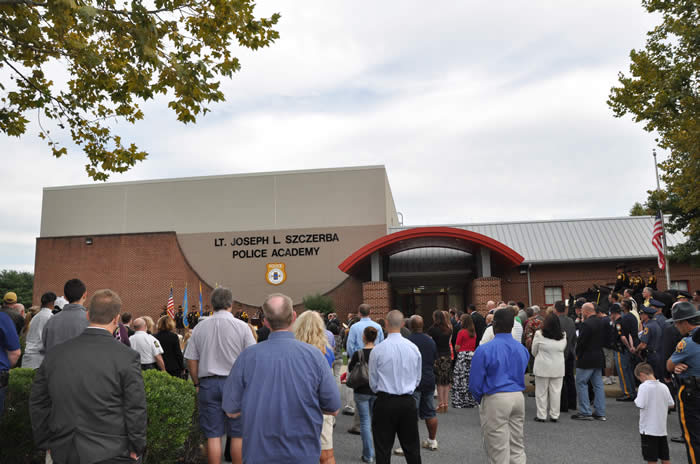 Joseph Szczerba
Obituary
| Visit Guest Book

Sergeant

Joseph Szczerba

Age 44, of Wilmington, DE, died September 16, 2011. Joseph was born June 26, 1967 in Wilmington, DE; he was the son of Jean "Ray" Szczerba and the late Edward Joseph Szczerba. He was the husband of Kathy Szczerba, his wife of 19 years.

Joe was an eighteen-year veteran of the New Castle County Police Department. Joe was hired as a police officer on July 11, 1994. After completing his training and graduating from the New Castle County Police Academy on January 13, 1995, he was assigned to the patrol division. After completing five years on patrol, he was transferred into the Criminal Investigations Unit in 2000, where he was assigned to the Family Services Unit. Joe also served in the Research, Development and Inspections Unit during his career.

Joe was promoted to the rank of Sergeant on January 23, 2008 and he was currently assigned to "E-Squad" as a patrol supervisor for the central district. Joe has received three unit citations, which included two for homicide investigations and one for a burglary investigation. He also received one commendation of merit for a robbery investigation. Joe also received numerous letters of commendations and appreciation.

Joe attended Corpus Christi grade school in Elsmere, DE before attending Salesianum High School in Wilmington, DE, where he played football and then graduated in 1985. In his senior year, he was named to the All-State second team. He furthered his education and his football career when he attended West Chester University in West Chester, PA, where he received his Bachelors of Science degree in Liberal Studies and a minor in Criminal Justice and Public Administration. He went on to attend Wilmington University in New Castle, DE, where he graduated with a Masters of Science degree in Administration of Justice. He also attended the West Point Command and Leadership program and completed the curriculum in 2009.

Surviving, in addition to his mother and wife, are his siblings; Stephen and his wife Karen, Edward and his wife Florence, Karen Campbell and her husband David of Carmel, IN, Nancy Anderson and her husband Paul, Gerald, Peter and his wife Stephanie. He took great pride in his 11 nieces and nephews, Stephen and his wife Chelsea, Ashley, Elizabeth and her husband Larry, Edward, Philip, Julianna, Andrew, David, Ann Marie, Jacob, and Hannah; four great nieces and nephews, Christopher, Cameron, Lidia and Jack.

Joe was a decent, honest and humble man. Joe was known for his great love of family and friends and had a passion for athletics and known for his mischievous sense of humor. Joe never looked for recognition, and the true measure of Joe's character was always shown as he would do for others and never expect anything in return. "You can judge the true character of an individual by how they treat someone who can do nothing for them." Joe had a tremendous love for animals and played a pivotal role in the neutering and releasing of feral cats in his neighborhood; many of those cats adopted him. He was also a dedicated volunteer for Faithful Friends.

Family and relatives are invited to attend the viewing at 9 a.m. on Friday, September 23, 2011, at the Chase Center on the Riverfront where the Mass of Christian Burial will follow at 1 p.m.

In lieu of flowers, memorial contributions may be sent to the following organizations: Faithful Friends, 12 Germay Drive in Wilmington, DE 19804; Delaware Wildlife Rehabilitators Association, Attn: Hilary Taylor, 113 Barksdale Professional Center in Newark, DE 19711; Tri-State Bird Rescue and Research Inc., 110 Possum Hollow Road in Newark, DE 19711; Sunday Breakfast Mission, 110 North Poplar Street, Wilmington, DE 19801.

Krienen-Griffith

Funeral Home

www.delawarefuneral.com

302-994-9614
New Castle County Police Alumni Associaiton

Phil Young - Alumni President

Phone (302) 354-1767  E-mail: NCCP195@hotmail.com
Sgt. Joseph Szczerba has been identified as the officer killed in the line of duty earlier this morning. For additional details see http://www.delawareonline.com/article/20110916/NEWS/110916002/Police-ID-New-Castle-County-officer-stabbed-death?odyssey=mod|breaking|text|Home http://abclocal.go.com/wpvi/story?section=news/crime&id=8356555 Rest in peace Phil Good morning everyone. I have some bad news. A NCCPD officer was stabbed in his neck while he was investigating a vehicle break in and died at the hospital. We will release additional details I we get them. Below is what the News Journal released: A New Castle

County police officer was killed in a fight with a suspect he was taking into custody early today, officials said. The 18-year veteran of the department had responded to a call for a disorderly person in the Penn Acres community near New Castle around midnight , said Cpl. John Weglarz Sr., department spokesman. As the officer, whose name has not been released, was taking a suspect into custody, he was fatally wounded, Weglarz said. The officer was taken to Christiana Hospital where he was pronounced dead, Weglarz said. He said the suspect is in custody. Police released few details this morning as they continued to investigate the homicide. "It's one of the saddest days in the department," Weglarz said. "It's tragic."Police are still investigating the incident, Weglarz said. The area of Roosevelt Avenue and Fithian Drive in Penn Acres was cordoned off with yellow tape early today. Unconfirmed police radio reports indicated the officer killed had reported he was involved in a foot chase with the suspect and then said, "I've been stabbed."