Cpl. Paul J. Sweeney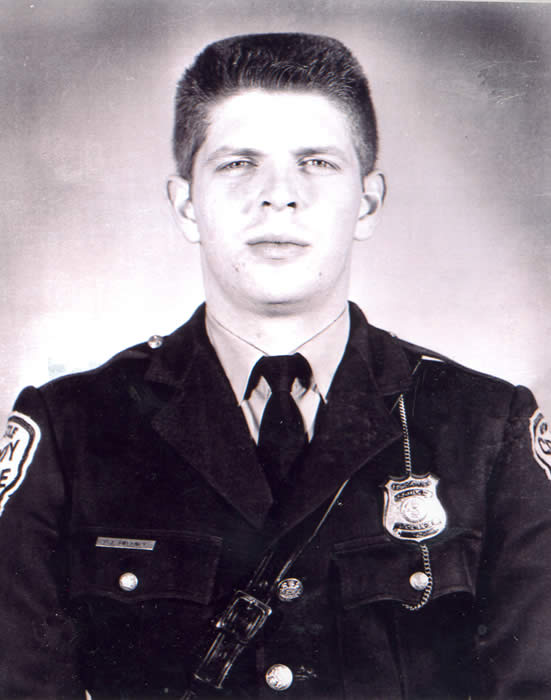 Plaques At the Police Academy
Dedicated to Sr/Cpl. Paul Sweeney and Lt. Joesph Szczerba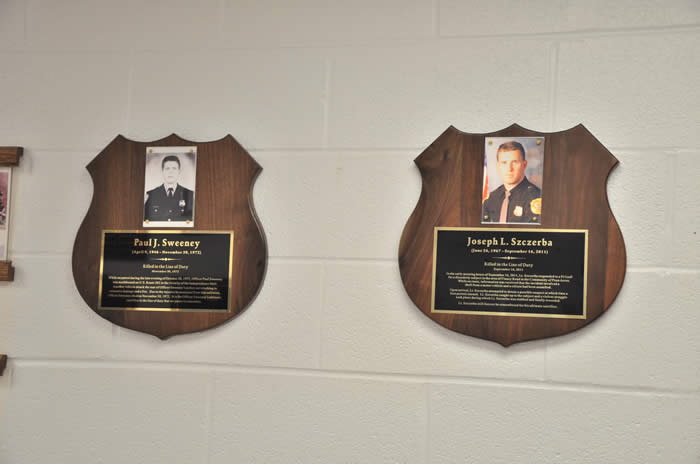 The following article was published in the Delaware State Lodge FOP Police Journal, Fall 2007.
Never Forgetting Our Past
Police Memorial Day May 2, 2007
Cpl. Paul J. Sweeney Public Safety Building
On October 28, 1972 Ptl. Paul Sweeney was traveling northbound on Rt 202.
Ptl. Sweeney's police vehicle was struck in the rear by another northbound vehicle.
Ptl. Sweeney's vehicle burst into flames and he couldn't escape from the vehicle because
all four doors had jammed shut from the impact. Ptl. Paul J. Sweeney died November 30, 1972
from his injuries.
Two years ago Brother Mike Rogers and Brother George Williamson put two motions on the
floor at the monthly meeting of Fraternal Order of Police Lodge 5. The first motion was to recommend
the promotion of Ptl. Sweeney to the rank of Corporal. A rank he would have obtained if not for the
fatal collision. The second motion was to name the new New Castle County Police Headquarters
under construction in the name of Ptl. Sweeney. Both motions passed unanimously. President
Ellwein of FOP Lodge 5 presented the passed motion to County Executive Chris Coons. On Police
Memorial Day 2005, County Executive Coons announced publicly that the new New Castle County Police
Headquarters would be named in memory of Cpl. Paul J. Sweeney. This was a surprise announcement
to the family of Cpl. Sweeney. The family was ecstatic that such a tribute was being done in memory
of their son and father.
So today was an exciting day. Even though the new police headquarters had not been officially dedicated,
the Police Memorial Service for 2007 was held at the new memorial site in front of the new Cpl. Paul J. Sweeney Headquarters. FOP Lodge 5 President S/Corporal Joe Lavelle, Public Safety Director Ernest R. Frazier , Colonel Rick S. Gregory Chief of Police NCCPD, and County Executive Chris Coons gave remarks to the attendees. The remarks by all four were outstanding and appropriate for the occasion. The remarks had an impact on all officers both past and present that were in attendance. The entire ceremony exemplified the history and future of an outstanding police organization.
Anyone who knew Cpl. Sweeney would have been proud to be in attendance at the ceremony. Remembering a brother officer who in the prime of his life gave the ultimate sacrifice.
After today, every time I drive up to the new police headquarters I will remember my 28 years of dedicated
service to the New Castle County Police Department, but I'll also smile and think of the memories of a childhood playmate named Paul Sweeney(Paul's family lived next door to my grandparents).
Personally I would like to thank several people. County Executive Coons and Cpl. Marge Ellwein (FOP President 2005) for naming the new headquarters after the only deserving individual. Also, I would like to thank Colonel Gregory, Captain Matt Jamison, and Sr./Cpl. Joe Lavelle for an outstanding Police Memorial Day Ceremony 2007
Ret. Capt. George H. Williamson
New Castle County Police Dept.

Cpl. Paul Sweeney's Memorial Plaque at Police Memorial Day in Washington D.C.