"in the breeze"
local and recent news of our alumni
From Captain Pat Crowell
We wanted to share the below policy update pertaining to when retirement badges/credentials are lost/stolen. While not as extreme as the discipline that can occur for active duty officers, it is a new policy. As we stress to all, recent intel indicates that police equipment is being targeted by gangs and terrorist groups and continued vigilance is paramount.
Replacement of Retirement Credentials:
When a retired officer reports to the Division of Police seeking to replace lost/stolen credentials the following procedures will be followed:
A. The retired officer must have in their possession a copy of the police
report from the agency the lost/stolen credentials were reported to
and a state issued identification card. No replacement credentials
will be issued without these items.
B. The retired officer will be referred to the Professional Development
Unit who will do the following:
a. Make copies of the police report and the retiree's state issued
identification.
b. Confirm the retired officer's retirement status.
c. Ensure that the lost/stolen credentials are reported to DELJIS and the Delaware Information and Analysis Center (DIAC).
d. Obtain a current photograph.
e. Order the replacement identification card.
f. Obtain a replacement retired police badge.
C. The Professional Development Unit will contact the retired officer
informing him/her once the replacement identification card and/or
badge are ready to be picked up. The Professional Development Unit
is the only unit authorized to release retired badges and
identification cards.
D. When reporting to pick-up the replacement credentials, the retired
officer will be required to present a check made out to New Castle
County to cover the cost for the identification card and/or
the retired officer badge. In some instances the Chief of Police may waive the fee.

It has been 40 years since the 5th New Castle County Police Academy graduated. Nineteen of the class attended a get together at the Iron Hill Brewery. Two of the retirees came up from Florida and one from West Virginia. We had a GREAT time talking about the past, present and future, June 10, 2015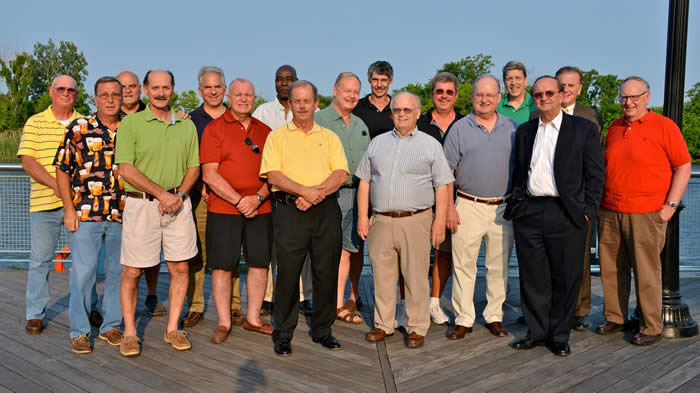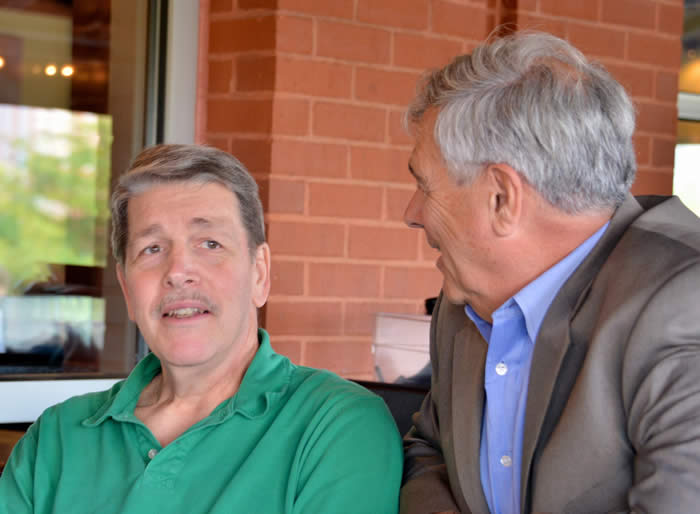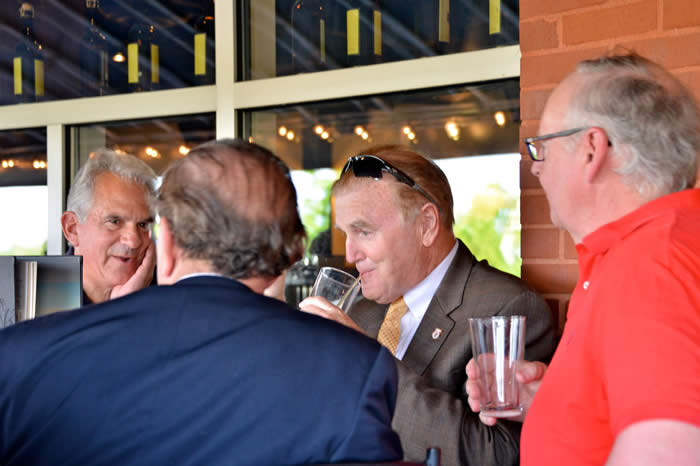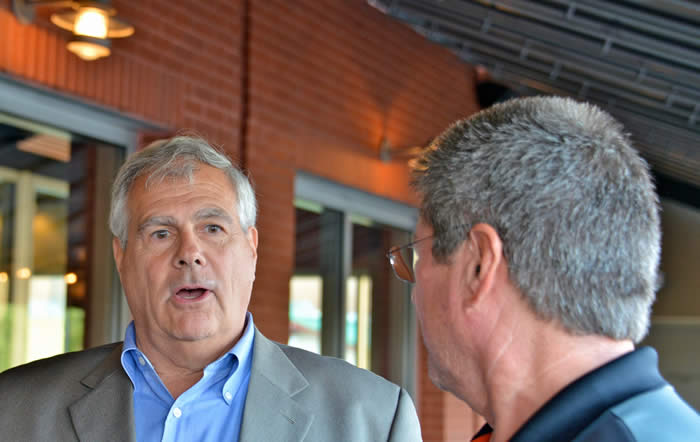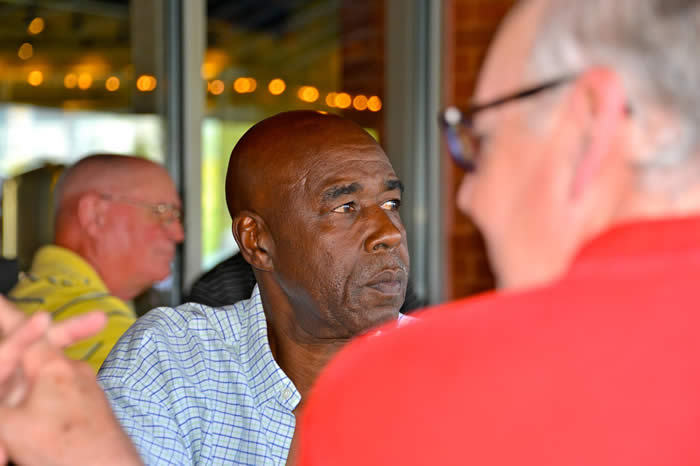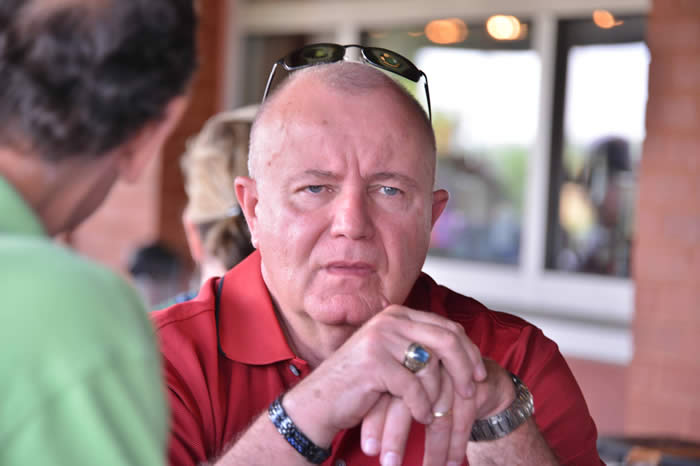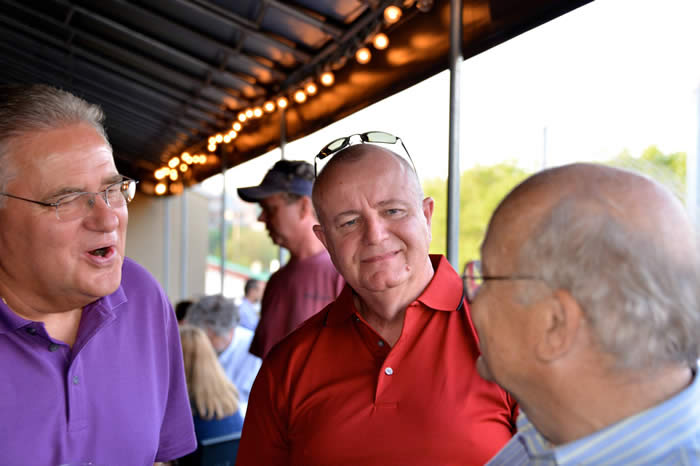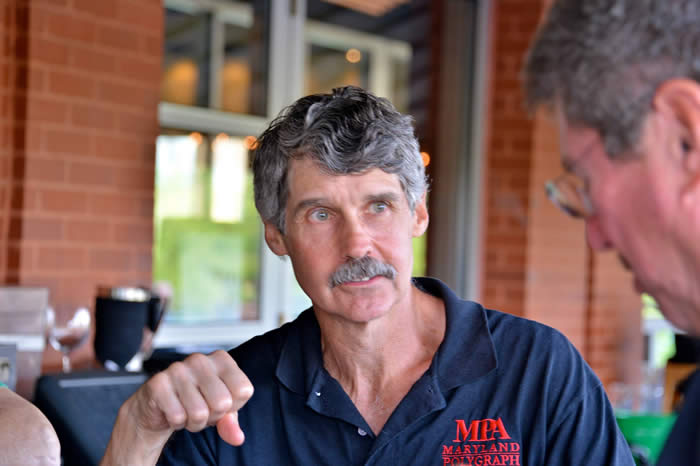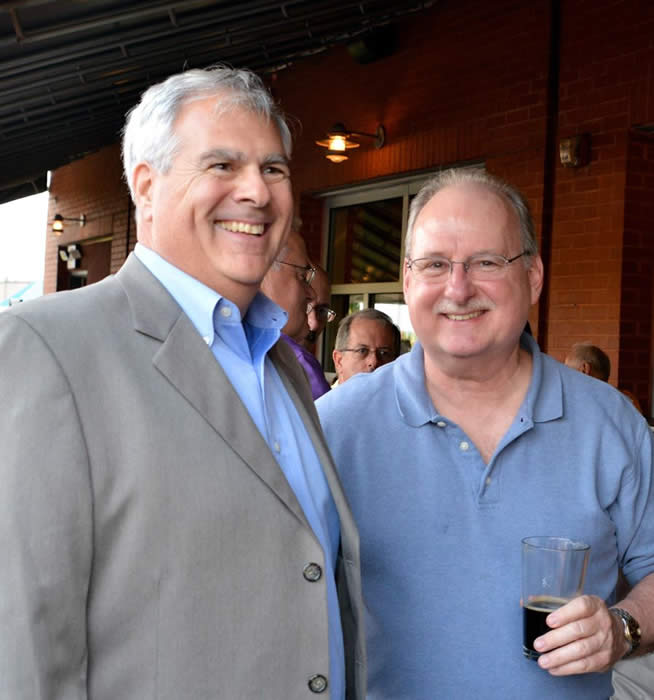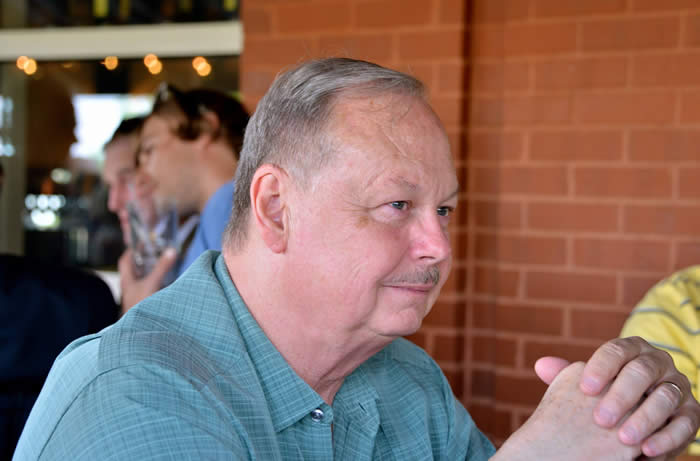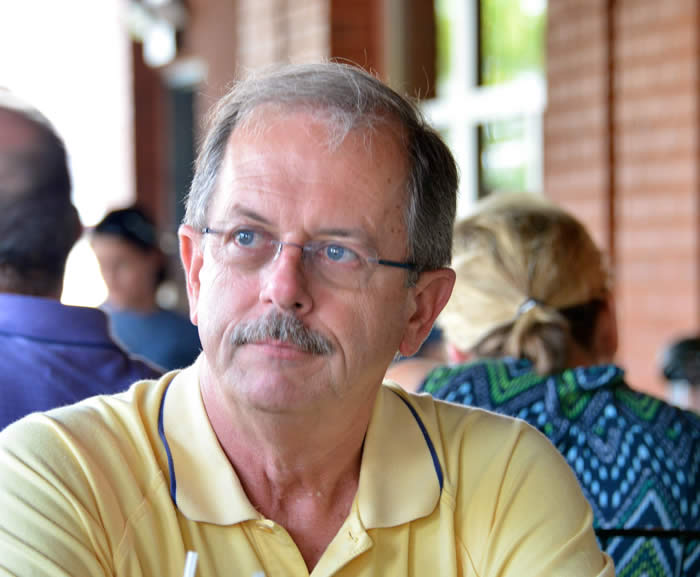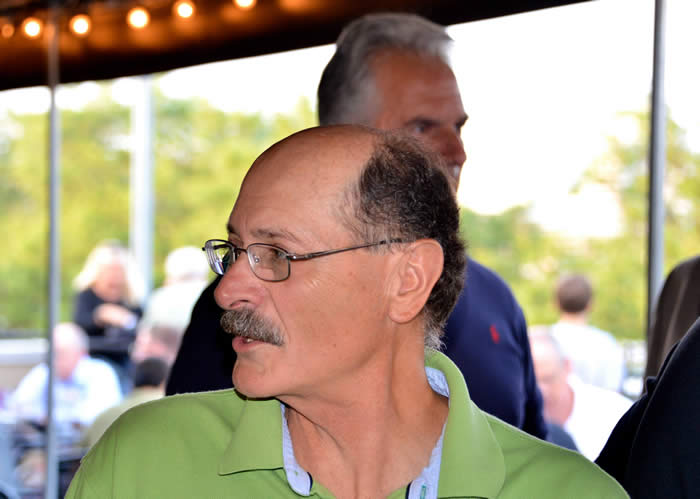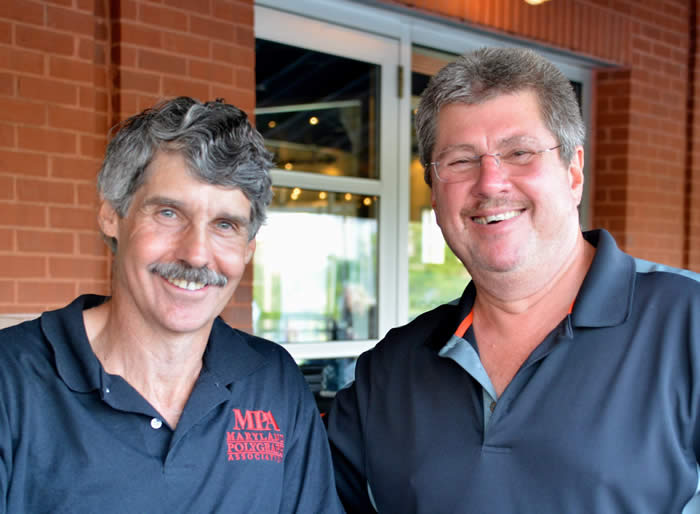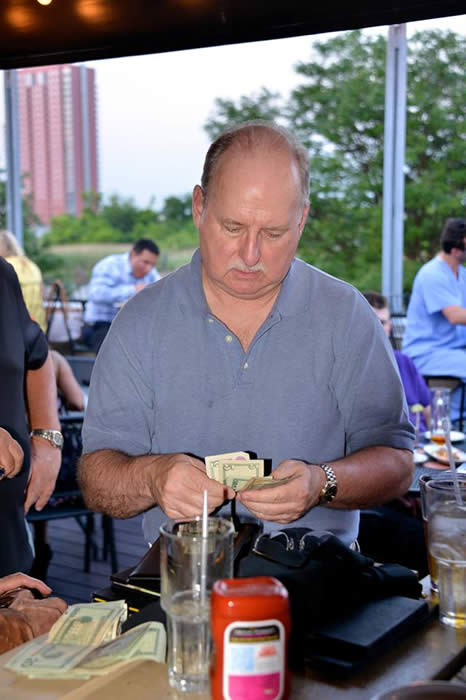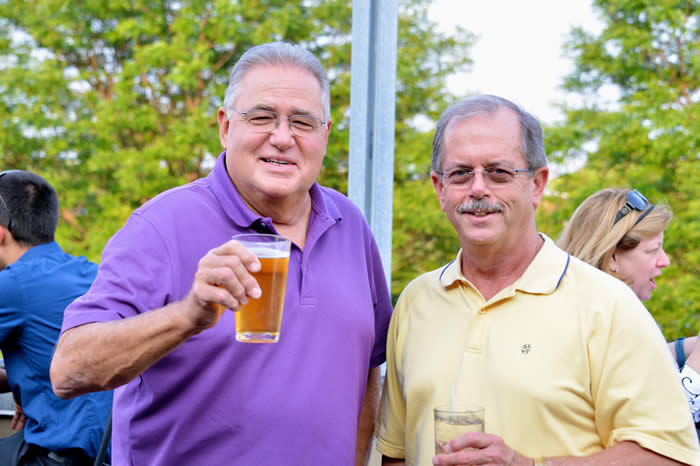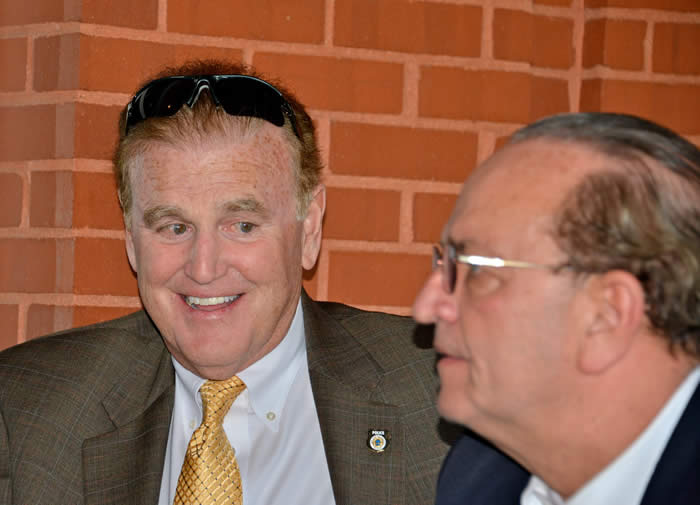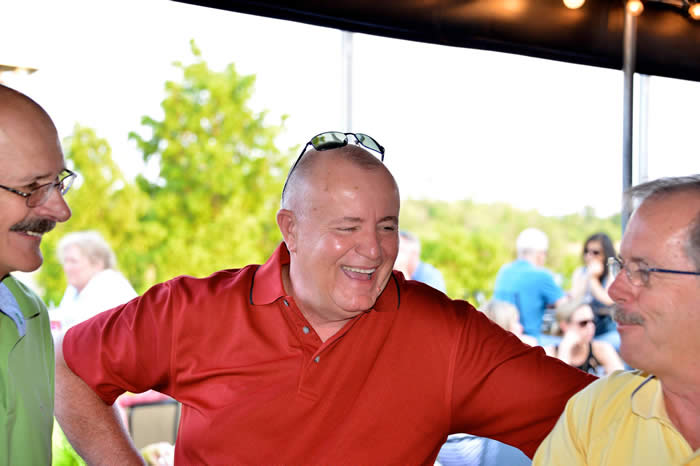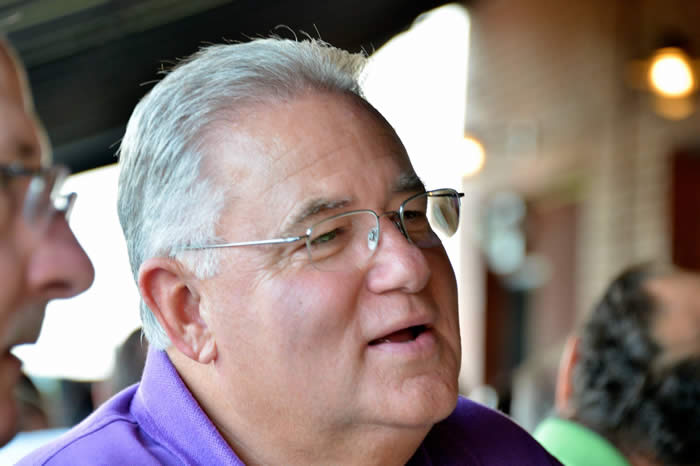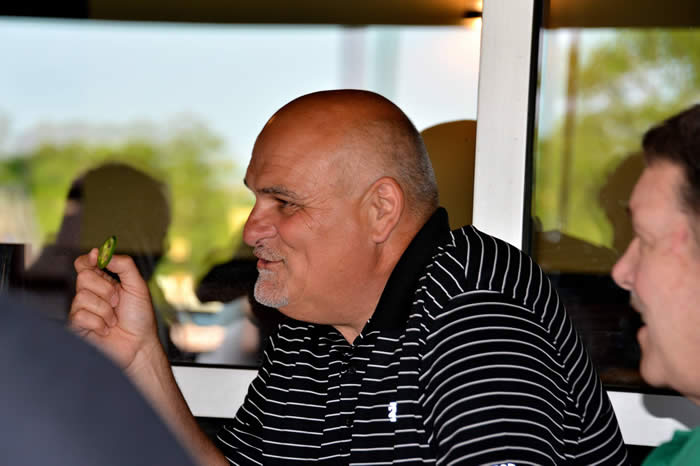 We believe we have found the first New Castle County Police Retiree. Sgt. Charles Alfred Martin retired on April 3, 1967. He was hired on May 20, 1948. Sgt. Martin's grandson had sent a letter to New Castle County asking if his grandfather was the first police retiree. Contact was made with Retired Lt. Felix Poppiti and he name six officers he worked with during the 1950's and 1960's. Susan Lawlor was given the names and she had to hand research each individual (the records are in boxes). Susan found that Sgt. Martin was the first police officer to retire. I have spoken with the grandson and he is very thankful that the police department did the research on his grandfather.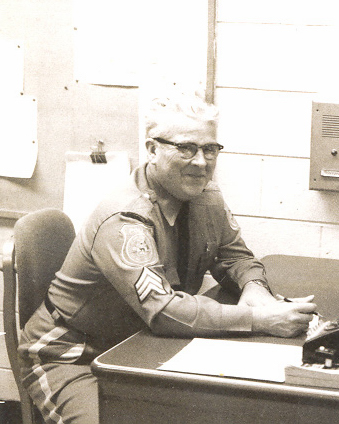 When Cops Retire

When a good cop leaves the 'job' and retires to a better life, many are jealous, some are pleased and yet others, who may have already retired, wonder. We wonder if he knows what he is leaving behind, because we already know. We know, for example, that after a lifetime of camaraderie that few experience, it will remain as a longing for those past times. We know in the law enforcement life there is a fellowship which lasts long after the uniforms are hung up in the back of the closet . We know even if he throws them away, they will be on him with every step and breath that remains in his life. We also know how the very bearing of the man speaks of what he was and in his heart still is.

These are the burdens of the job. You will still look at people suspiciously, still see what others do not see or choose to ignore and always will look at the rest of the law enforcement world with a respect for what they do; only grown in a lifetime of knowing. Never think for one moment you are escaping from that life. You are only escaping the 'job' and merely being allowed to leave 'active' duty.

So what I wish for you is that whenever you ease into retirement, in your heart you never forget for one moment that 'Blessed are the Peacemakers for they shall be called children of God,' and you are still a member of the greatest fraternity the world has ever known.

A letter the Alumni Association received from Kathryn M. Maurer, Bill Gallagher's daughter.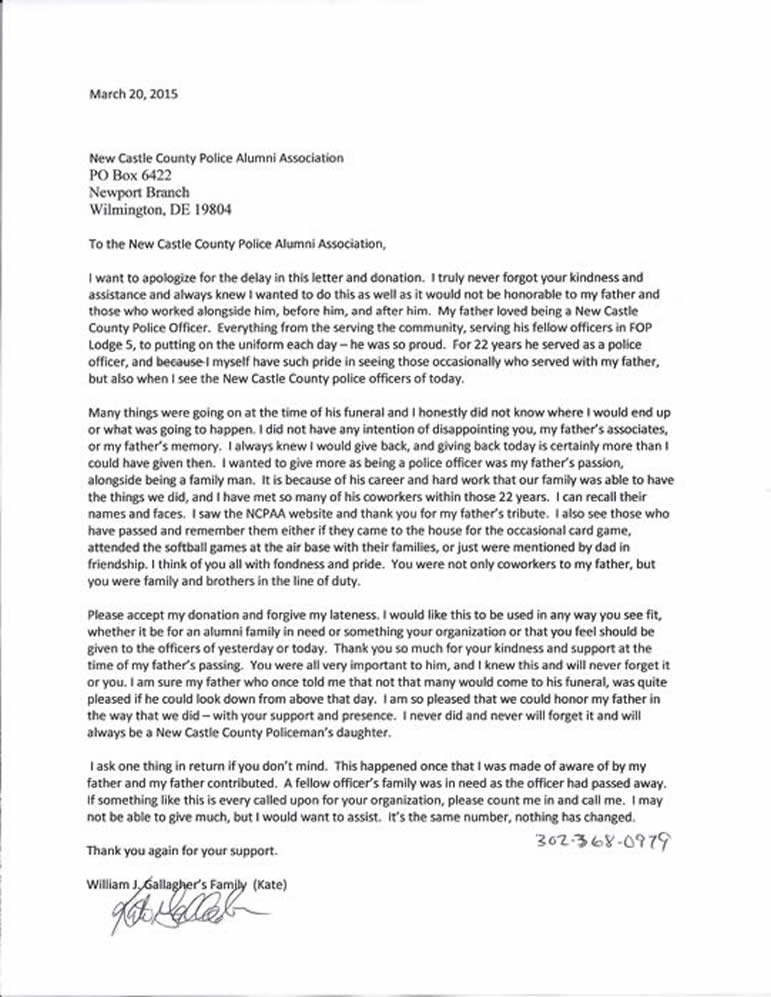 Next Wednesday is Police Memorial Day. The day we remember all the officers who died while serving the public. Unfortunately, the New Castle County Police Department has lost two officers in the line of duty, Paul Sweeney in 1972 and Joe Szczerba in 2011.
The Alumni Association sent out a request for specific information about Paul Sweeney's accident in 1972. The information was needed for Deldot to place a Memorial on Route 202 where the accident occurred. Numerous responses were received with information, but the two responses below still show the impact of Paul's death 40 years later.
The lost of a brother officer impacts every police officer for the rest of his/her life.
Dave,
At the time of the vehicle crash that resulted in the death of Paul Sweeney, I was the supervisor of the Selective Enforcement Unit (SEU) and assigned to investigate this incident. Coincidently, I was traveling south on Route 202 at Murphy Road when the crash occurred (opposite the north end of Independence Mall) and witnessed the explosion of gasoline (fire ball) that consumed Paul as he exited through the right rear window of his patrol vehicle. Bill Esterling and I arrived on the scene moments after the crash and found Paul, who was badly burned lying in the roadway. Paul had rolled on the ground away from the patrol car in an effort to extinguish the flames. We summoned medical assistance and Paul was transported to the Delaware Division and then moved to the burn unit at the U of PA. I interviewed and visited Paul numerous times during the 40 days he was hospitalized and supervised the investigation of his death. SEU prosecuted the traffic violations that caused Paul's death and testified in the related civil case. We also served as part of the Honor Guard at his funeral. I believe I know as much about this event as anyone alive. I believe the crash occurred in what was then known as "12 Sector". The exact location was the left most lane of North Bound Route 202 at a crossover to South Bound Route 202. This cross over was located just north of the entrance to the Mall. Paul was stopped and attempting to make a U-turn onto South Bound 202 when he was struck in the rear by a north bound vehicle. The crossover no longer exits. However, I could show you the exact location of the crash. It is a site I will never forget. If I can be of any other assistance please let know.
Colonel John R. McCarnan (ret.)
Dave,
I was Paul's Road Sgt. He was assigned to my squad...4 Squad. I was there that night when they brought him in by ambulance (Talleyville). I was dispatched to the Del Div because I was told over the air that Paul was involved in a 10-10PI and they told me that Paul was the injured victim and that it didn't look good.
I was there at the hospital to help Paul out of the ambulance, he was burned over 90% of his body...yet he was joking with me and laughing about having his first accident. The paramedics and I helped him out of his uniform, later we found out that the old brown uniforms, including his brown Sam-Brown jacket (that's our original jacket that we wore with the leather cross strap and the gun belt hung on metal clips at the waist) were cleaned by using a flammable cleaning liquid...similar to kerosene. The only part on Paul's body that was not burnt was where his belt buckle and shoes were. All the rest of him was burnt and blistered. He told me that he never saw the kid coming until it was too late. He remembered being on fire and was fighting to get out of the car but the doors wouldn't open. He saw flames all over his body as he tried to kick out the windshield. He said he finally was able to crawl out of a window and he tried to roll over and over in the medium to put the fire out. He said someone had stopped to help him and two other men got the fire off of him. He laid there on the gurney in the ER with doctor's busy working on him. He began to shake and the doctors told me he was going into shock. I felt so helpless...I couldn't do anything except take his gun and gun belt. All of his burnt clothes were put in a bag and held by me.
Within a few minutes, Chief Snedeker and Lt Elderkin arrived and I briefed them. About 20 minutes later a patrol unit arrived and brought Paul's wife in to see him. I stayed there for a while trying to help her and make other calls for the family.
After leaving the hospital I drove up to the accident scene and there were several officers there taking pictures and trying to reconstruct the scene.
Paul died a few weeks later...he never lost his spirit...
Sgt. Mike Riley (ret.)

Congratulations to WPD officer, Scott Gula, he was honored with his canine yesterday at the 3rd Annual K9 Service Dog Veterans Day in Morton, PA. He is the son of Alumni member Bill Gula. Also congratulations to Mark Tobin, Hanks' brother, and Robert Vaseck, NCCPD, for also being honored.

Today I attended the viewing for Frank Callahan, a past New Castle County Rural Officer. I was very surprised to find out that a Rural Officer was still living when the Department celebrated its 100th anniversary. I would have loved to interview him for the anniversary. Also attending were John Haug, Jack Cunningham, Frank Cooke and Bob Kwiakowski. One retiree gave the family a tribute recognizing Frank's police service. I presented the family with copies of the pictures of Frank from 1950. The family was very appreciative. Ski and I talked with Frank's wife at length and she was very proud of her husband's tenure with the New Castle County Rural Department. Frank was important part of the Department's history being a New Castle County Rural Officer. Without officers like Frank the New Castle County Police Department would not have grown into the National Recognized Department it is today.
Also attending were numerous NCCPD officers including the Chief and most of staff. The Department also provided the family an escort to the cemetery and the mounted unit was at the interment.
In a conversation this week someone said," Why would the Alumni recognize Frank, he only was here for such a short period (1949-1951)." The answer to this was given by Chief Setting at the viewing today, "We are here to recognize one of your own that made history for the Department."
Unfortunately, the Mounted Unit was unable to make the interment, but NCCPD officers were at the grave when the police escort arrived. Frank was a veteran of the Navy and two representatives from the Service folded the American Flag and presented the flag to Frank's wife. At the end of the service the family thanked the Department both present and past for being there and recognizing Frank's service as a New Castle County Rural Officer.
Thanks to John Haug for the pictures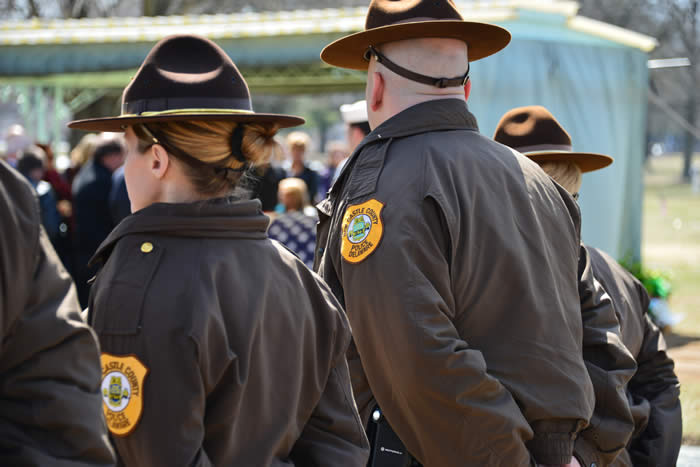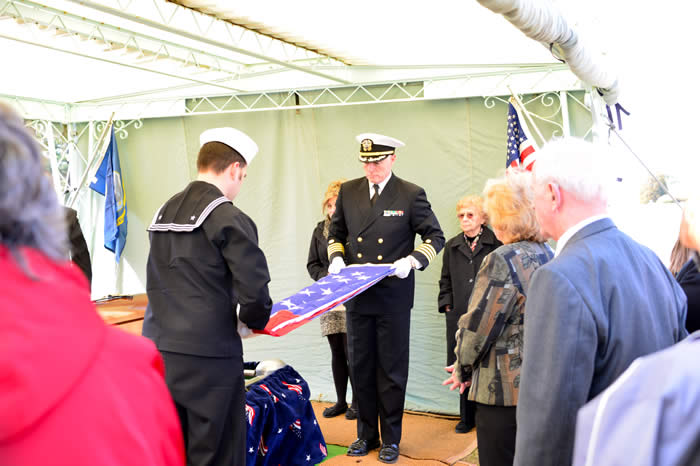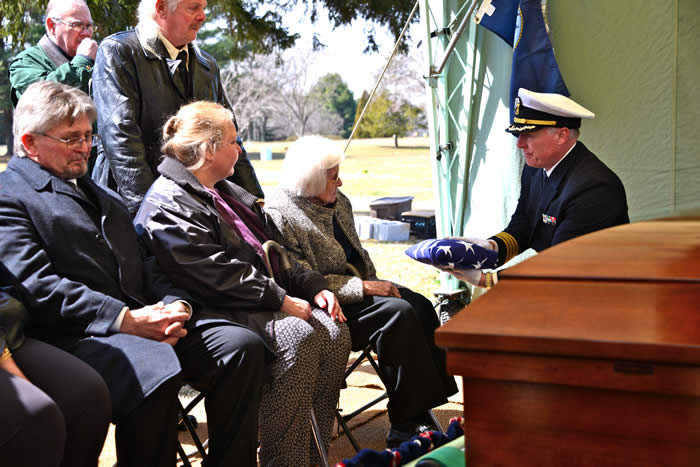 Frank Callahan was not a retiree, but was a New Castle County Rural Officer 1949-1951. Below are two pictures of him from 1950. The uniform he wore was the uniform that Cpl. Al Wyscot recovered in Philadelphia Pa several years ago and is on display at Headquarters.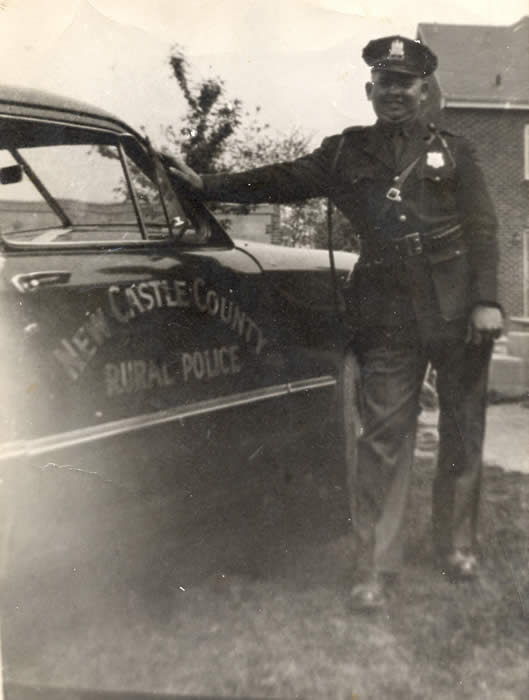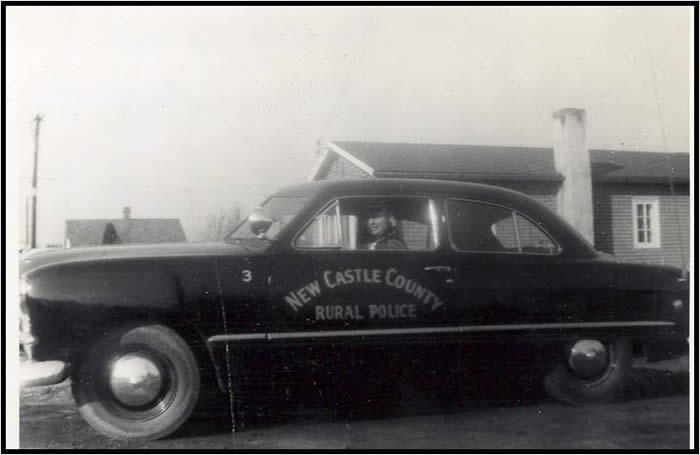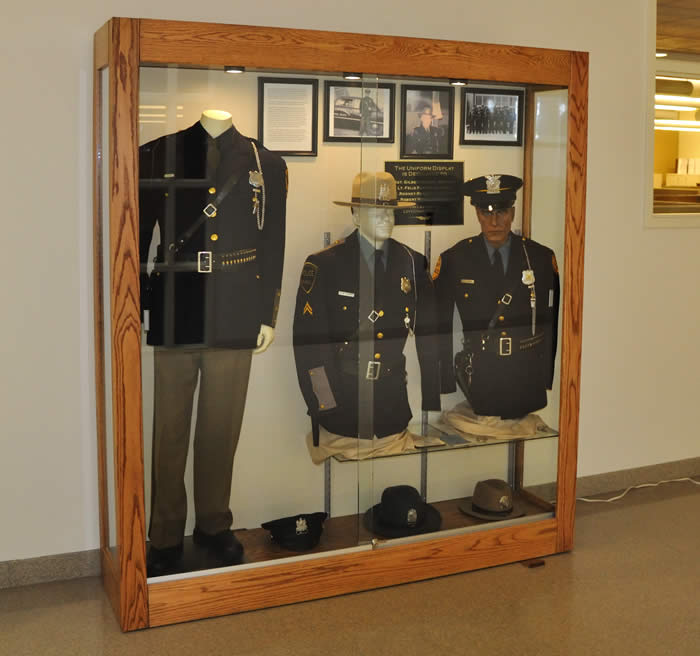 From: Miller, Jan
Sent: Monday, March 24, 2014 10:39 AM
To: Merrill, Douglas
Subject: Funeral of NCC Rural Officer (1949- @1951 ) Frank Callahan - Thursday, March 27th
Importance: High This morning I received a phone call from Shannon Strawbridge, the granddaughter of Frank Callahan, whom she said was one of the original 4 NCC Rural Officers from the late 40's-early 50's. She said that Mr. Callahan was hired in 1949 after he returned home from WWII military service. He served a "couple of years" assigned to the New Castle quadrant. She mentioned that back then with 3 kids, he needed to leave the force to find a higher paying job, as they did not pay well at that time. His son has his badge and police id which will be on display at the viewing. (I asked her if they would want to donate them to the department for our history displays with the photo of him beside his police car.) Shannon is going to send me photos of these items today. She was wondering if the department ever sends officers to represent us at the funerals of former officers who did not retire from here. Viewing at Krienen-Griffth Funeral Home: Thursday, March 27, 2014, from 10 – 11:30 followed by a brief service then the burial. Burial: All Saints Cemetary, Newark Shannon's cell phone # is 302-293-8280 Regards, Jan Jan Miller, Secretary Professional Development Unit New Castle County Police Division 3601 N. DuPont Hwy. New Castle, DE 19720 Frank Callahan Obituary http://www.legacy.com/obituaries/delawareonline/obituary.aspx?n=frank-callahan&pid=170339682&fhid=24265 Obituary

Congratulations 'TJ'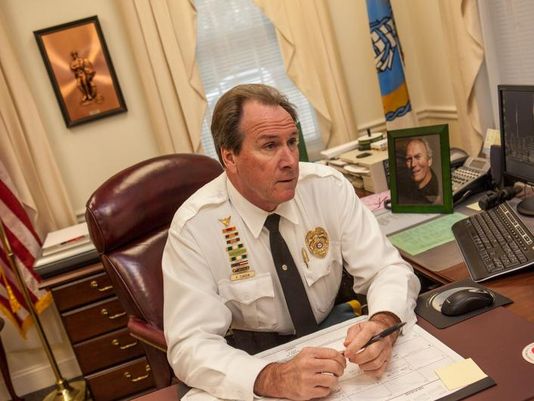 NEW CASTLE – Prominently displayed on the desk next to the computer in the chief's office in New Castle's police headquarters is a vintage photo of actor Clint Eastwood – alias "Dirty Harry," fictional San Francisco cop Harry Callahan – who starred in a series of popular films in the 1970s and '80s.
The city's new police chief Dan Tjaden makes no apologies for his homage to Eastwood or for his own strange juxtapostion – moving from chief of Delaware City to the commander of New Castle's department.
"He's always looking over my shoulder," the 61-year-old Tjaden quipped of Eastwood.
He recalled how two years ago, when he and his wife visited San Francisco, they went to every location featured in the "Dirty Harry" movies. "He's my hero," he said.
The new job has taken Tjaden upstream from another small historic river town where he spent most of the last 17 years as its police chief.
He started Delaware City's now three-officer force in 1996 after retiring from the New Castle County police department following a 25-year career.
Operating on a lean budget, Tjaden – known as TJ – patrolled the 1½-square-mile town – populated by more than 1,700 residents – in his own Ford Bronco armed with his own pistol.
"I had the unique opportunity to start a police department," he said. "How many people get to do that? I started there with my own badge, own gun and own Ford Bronco. I was fortunate to have some chiefs who took me under their wings and taught me, and I was able to pick up grant money for equipment."
In 2007, Tjaden left the department for the opportunity to work as law enforcement liaison with then Sen. Joe Biden. But when Biden was elected vice president, Tjaden returned to Delaware City in 2009 as its city manager/public safety director. Then in 2011, he returned to the chief's position when the former city manager, Paul Morrill, returned to the job.
Delaware City now boasts three full-time officers plus a seasonal officer and is fully-equipped. The town even has a government surplus reconditioned and repainted humvee Tjaden helped secure that came in handy during 2012's Superstorm Sandy.
His personal policing style and penchant for wearing knee-high riding boots with his uniform will be missed by the residents.
"I saw a lot of those kids born and raised," he said. "I saw them driving cars. But I've gotten a lot of nice calls from the residents."
But one skill Delaware City's administration will miss most about Tjaden's departure is how he always managed to obtain grant money for much needed police resources, town manager Dick Cathcart said.
"One of the things Dan has a knack for is finding resources to get the things he needs," Cathcart said. "And, the one thing we're going to miss about his leaving is that. It's like he's pulling a rabbit out of his hat and he finds the money or equipment."
Tjaden, meanwhile, said he will miss the people of Delaware City, but not especially the accommodations that saw him handcuff prisoners to chairs instead of in holding rooms like those in his new digs.
Tjaden now oversees a department of 17 officers with a population of about 5,285 residents – more than double that of Delaware City.
The town's geographical area of 3.5-square miles stretches from the Buttonwood community along Del. 9 south to Dobbinsville, and west from the Delaware River to Hares Corner, including businesses in the Airport Shopping Plaza on U.S. 13 and the Amazon Warehouse on Centerpoint Boulevard.
New Castle town manager William Barthel said they started advertising for a chief in mid-November. A committee of three perused 56 resumes from all over the country before narrowing it down to four candidates from within Delaware.
The committee then made recommendations for Council, which interviewed each of the candidates before making a selection, he said.
"I can't tell you how delighted and excited we are to have TJ here, and for his experience in general," Barthel said.
Tjaden replaces former New Castle Chief Kevin McDerby, who quietly exited the job without fanfare at the end of October after 13 years there that followed a long career with the Delaware State Police.
"I went to New Castle City in 2000 with the intention of staying for 10 years, and stayed for 13," McDerby said Thursday. "I left on good terms, and left after my tenure to myself and family was completed. But when I started to collect Social Security and they put me on Medicare, it's time to put the gun and the handcuffs away."
McDerby, 66, is now the director of the Delaware State Police Museum in Dover.
McDerby is credited with overseeing the design and construction of the new police facility, which opened in 2003, and with spearheading the Delaware Law Enforcement Memorial in Dover, dedicated in 2010.
He is most proud of the two trips he arranged in 2008 and 2011 for Delaware's World War II and Korean War veterans to visit the National World War II and Korean War memorials in Washington, D.C.
"I miss being an active police officer and the daily interaction with the people in the community," he said. "It's hard to put into words."
Behind the wheel of his police car, Tjaden cruises through the streets of New Castle, pointing out The Strand, Battery Park, Shawtown and Dobbinsville, where the town's police substation opened under McDerby's tenure is located.
Visiting the facility for the first time Thursday, Tjaden said he was impressed with the building and said he planned to use it for community meetings with Dobbinsville residents and as a place probation and parole officers could meet each week with probationers in town.
The new chief talks animatedly about his plans for upgrading the town's patrol fleet, tweeking the uniforms and replacing the traditional campaign hats with crushed-style caps worn by Philadelphia Police Department's Highway Patrol, and securing grant funds for a surplus humvee and a pair of ATVs.
Tjaden has already sent a proposal to the Town Council for a "Penn Wars" Day for the town's children to be held June 21 in Battery Park with games such as tug-of-war, relay races and obstacle courses for the kids to participate. Plans are also afoot to establish a K-9 unit and to clean-up and give away to needy kids all of the recovered bicycles stored for years in the police garage and never claimed.
"I'm a working chief, so I do like being out on the street," he said. "I'm so used to being the chief, cook and bottle washer. In Delaware City, I did it all by myself. But here I have a staff, so I can concentrate on getting grants for equipment and have time to spend to help the younger officers along."
In his spare time, the chief, a longtime motorcycle enthusiast, enjoys participating in motorcycle escorts and other fundraiser runs supporting law enforcement, the military and charities.
"I wasn't waiting for a new challenge, but I couldn't turn this opportunity down, Tjaden said. "I love being a cop. Small town policing is policing at its best, because you know everybody."

The two Christmas trees in the Court House in old New Castle. One tree has pictures of present officers from NCCPD and the second tree has pictures of retired officers from when they were on the Police Department. The two Christmas trees were done to celebrate the 100th anniversary of New Castle County Police Department.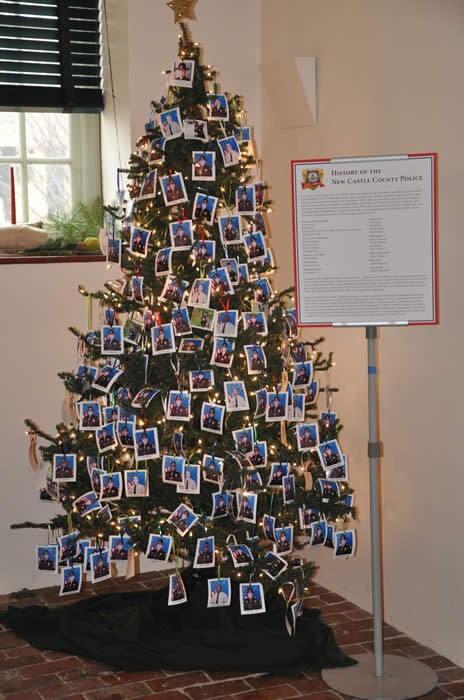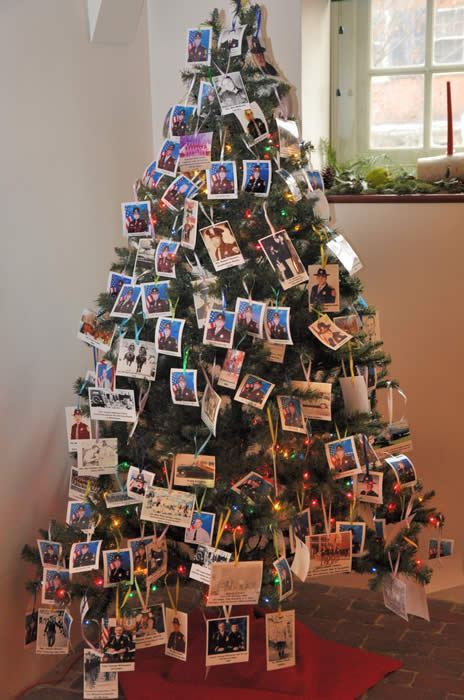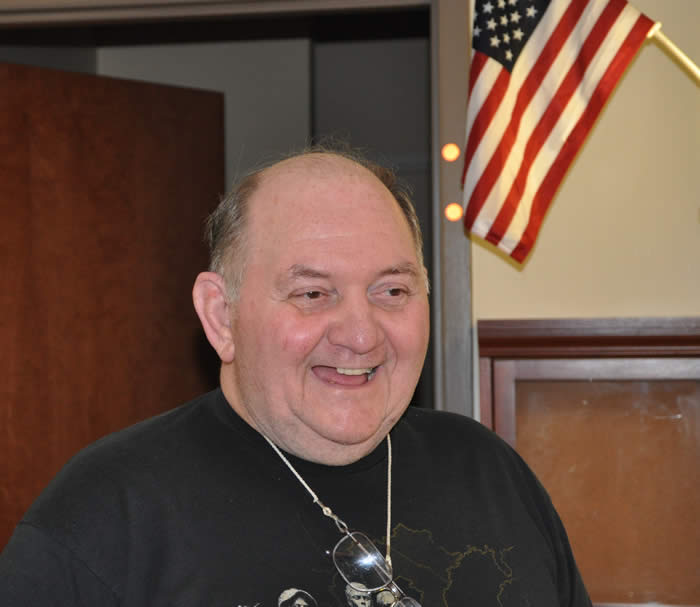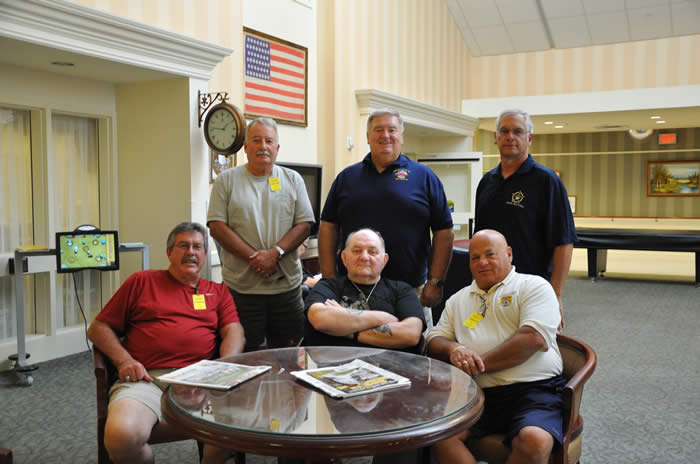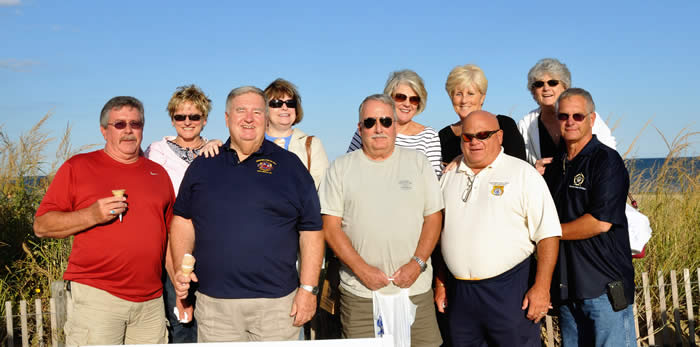 On Sunday September 22, we all went down to the Veterans Home in Milford to visit Ron Peary. Ron was very happy to see everyone and we all spent an hour reminiscing about the past. Ron looked good and definitely enjoyed the visit from us.

Wow....36 already...I was in #1 Class that graduated in Sept, 1967. I was the first officer hired in April 4, 1967 as a turn-key (jailer) on Kirkwood Hwy Engineering Building. I took the test that June with 725 other applicants under the "New" New Castle County Government...(Felix and 7 others were "grandfathered" in from the Old Levy Court System that changed over to the new government system on Jan 1, 1967. I studied every midnight shift for the exam. I read every test from the Wilmington Library regarding police work and promotions within law enforcement. I took the test and found out I came in 2nd place on the list out of all of those tested. We attended the Wilmington Academy, also called the William Draper Class. (he was a detective that was killed on duty and they named that class after him) I was the first officer to hit the road in our new blue uniforms that we bought from the Michigan State Police Surplus Office. My picture was on the front page of the News Journal that day so the people new we were a real department. Al Kerrigan, Frank Astfalk and I are the only 3 remaining from the first class. That just a little history for you... Mike Riley

New Castle County Police Alumni Association P.O. Box 6422 Wilmington, DE 19804
Phil Young - Alumni President
Magistrate Judge Vincent Kowal

Vinny Kowal was nominated by Governor Markell as a Magistrate for the JP Court system. On March 21, 2012 the Delaware State Senate confirmed Vinny Kowal as a Magistrate. Congratulations to Vinny on his new position and we wish him the best.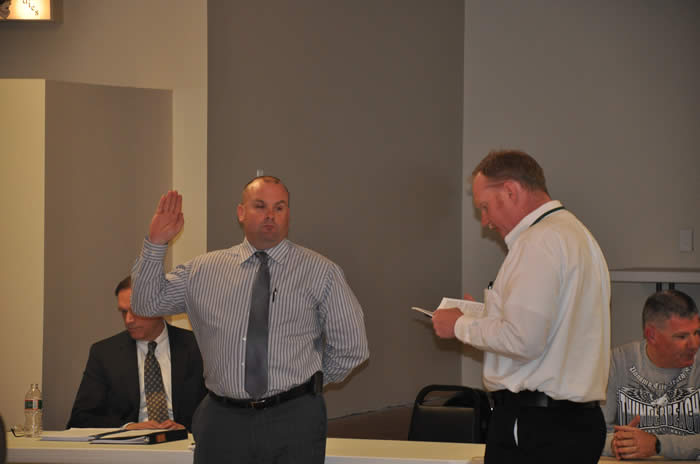 New FOP Lodge 5 President, Mike Zielinski, being sworn in on March 14, 2012.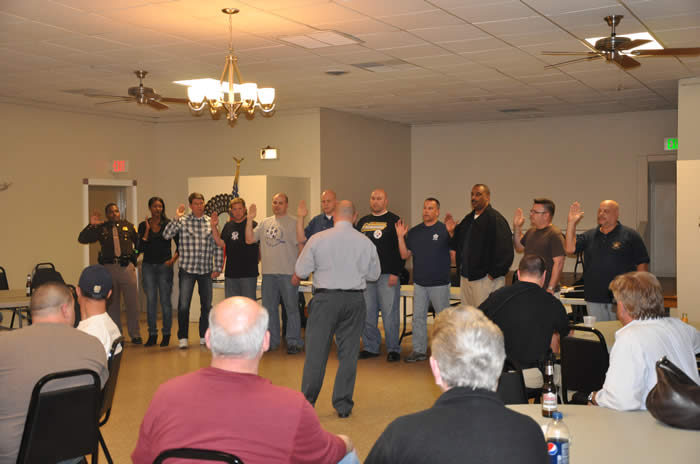 New FOP Lodge 5 Board

Congratulations Retired S/Sgt. Renee Tashner
From the News Journel Monday, December 26, 2011 Taschner named to NCCo vo-tech school board
Renee C. Taschner, a retired New Castle County Police senior sergeant, has been appointed by Gov. Jack Markell to a seven-year term on the New Castle County Vocational Technical School District Board of Education. Unlike other Delaware public school districts, vo-tech school board members are appointed by the governor, not elected by the community. Taschner, 47, fills the seat formerly held by Ray Christian, a retired Colonial School District superintendent who died in September after an extended illness. Taschner entered public service as a Delaware State Police dispatcher, before graduating from the New Castle County Police Academy in 1988. She was one of two women in that graduating class. Taschner served on the force until retiring in 2004. A Delaware resident for more than 30 years, she is a graduate of Dickinson High School and earned a degree in Criminal Justice/Police Science from Delaware Technical and Community College. Taschner and her husband, Jeff, live in the Newark area with their two children.

-------Original Message-------
Date: 6/27/2008 8:46:14 AM
Subject: News
144th General Assembly
Nominee Information
Thaddeus A. Koston
Nomination Title: Violent Crimes Compensation Board
(Board/Commission Name)
Status: Passed

First Name: Thaddeus
Middle Intial: A.
Last Name: Koston
Designation:

Date Read In: 06/24/2008 Hearing Date: 06/25/2008
Length of Term: to serve a term to commence June 30, 2008 and to expire June 30, 2011 Term Expiration Date:
Comments: to be appointed a member of the Violent Crimes Compensation Board




Patrolman Chad Spicer
Georgetown Police Department
Delaware
End of Watch: Tuesday, September 1, 2009 Biographical Info
Age: 29
Tour of Duty: 4 years
Badge Number:Not available Incident Details
Cause of Death: Gunfire
Date of Incident: Tuesday, September 1, 2009
Weapon Used: Gun; Unknown type
Suspect Info: At large Patrolman Chad Spicer was shot and killed as he and his partner attempted to stop a vehicle that had been involved in an shooting a short time earlier.

All three suspected exited the vehicle and began to flee on foot. One of the suspects immediately opened fire on the officers, fatally wounding Patrolman Spicer before he was even able to exit the patrol car. His partner was also shot and critically wounded.

Two of the suspects were apprehended, but the suspect who fired the shots remains at large.

Patrolman Spicer had served with the agency for one year and had previously served with the Bridgeville Police Department for three years. He is survived by his wife and daughter. Agency Contact Information
Georgetown Police Department
335 N Race Street
Georgetown, DE 19947

Phone: (302) 856-6613


Friday, Sept. 4 - A candlelight vigil for slain Georgetown Patrolman Chad Spicer will be held Friday on the Circle in Georgetown from 6 to 7pm. The area will be blocked off to traffic and detours set up for drivers.
CHAD ERNEST SPICER
August 23, 1980 - September 1, 2009
Patrolman Chad Spicer joined the Georgetown Police Department on September 2, 2008.
Prior to joining Georgetown, Officer Spicer had work for the Laurel Police Department (June 17, 2008 - August 24, 2008); Bridgeville Police Department (March 1, 2004 - June 15, 2008); and the Delaware Department of Corrections (2000 to 2004).
Officer Spicer was a native of Georgetown having graduated from SussexCentralHigh School, and Delaware Technical and Community College in 1999.
Officer Spicer was tragically killed in the line of duty on Tuesday, September 1, 2009 during a traffic stop. Chad was an outstanding police officer and will be sorely missed by his family, friends and his fellow officers.
Officer Spicer is survived by his parents Norman and Ruth Ann Spicer of Georgetown, and a three (3) year old daughter, Aubrey.
A trust fund has been established for his daughter and contributions can be directed to:
Aubrey Spicer Trust
c/o Norman E. Spicer
Wilmington Trust Bank
139 S. State Street
Dover, DE 19901
Or any Wilmington Trust Branch
Please keep Officer Spicer and his family in your prayers.
SHAWN M. BRITTINGHAM
Corporal Shawn Brittingham has been employed with the Georgetown Police Department since February of 2003.
Corporal Brittingham is currently assigned to Patrol where he is responsible, along with other patrol officers, for a long list of duties including, but not limited to, responding to emergency calls for service and enforcing the criminal and traffic laws of the State of Delaware.
Corporal Brittingham is Georgetown Police Department's K-9 Officer, a position that he has held since July of 2005. In addition to being a K-9 Officer Corporal Brittingham is a member of the Georgetown Police Department's Emergency Response Team and is a shift supervisor.
Corporal Brittingham and his wife, Melissa and one (1) year old daughter, Olivia, reside in Millsboro, Delaware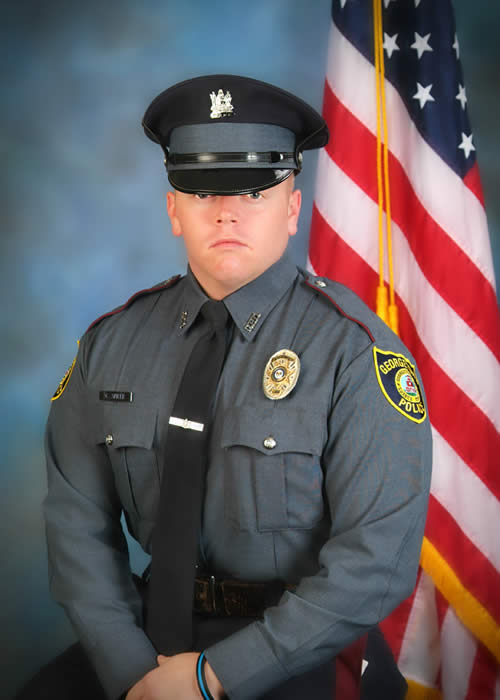 Chad Spicer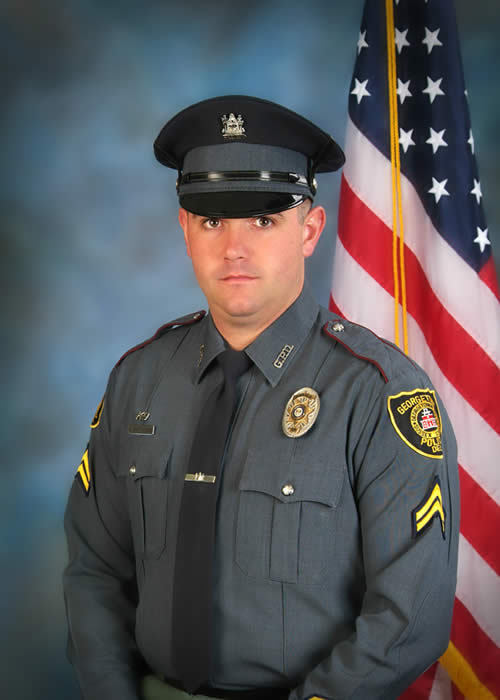 Shawn Brittingham

Article from Thursday, July 23, 2009 News Journal.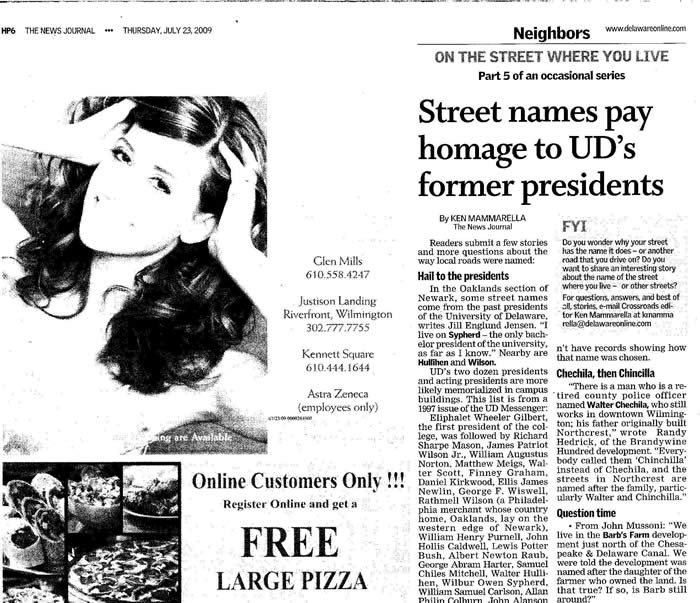 Jan Colmery did a special tribute to Wally when she had this tombstone made. She incorporated everything that was important in Wally's short life. Unfortunately the small image hides many of the images. In the left hand corner is a NCCPD Corporal's badge. In the right corner is Bugs Bunny (Bugs). On the bottom is a beach scene with a boat, motorcycle, and a Corvette.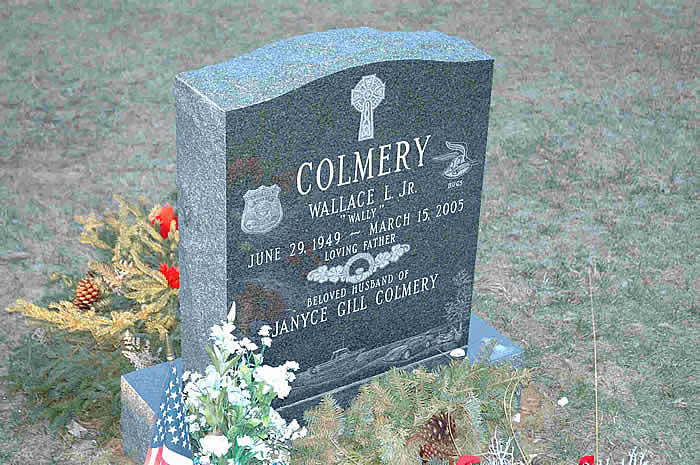 The Fraternal Order of Police Lodge 5 purchased a plaque in the memory of Lt. Ralph Dangello. The plaque was placed at the foot of an oak tree purchased and planted at Carousel Park by the Dangello family. Ralph's wife wanted to do something remembering Ralph's dedication and commitment to the Mounted Patrol Unit. The oak tree and plaque are on the roadway entering Carousel Park going towards the OK Corral..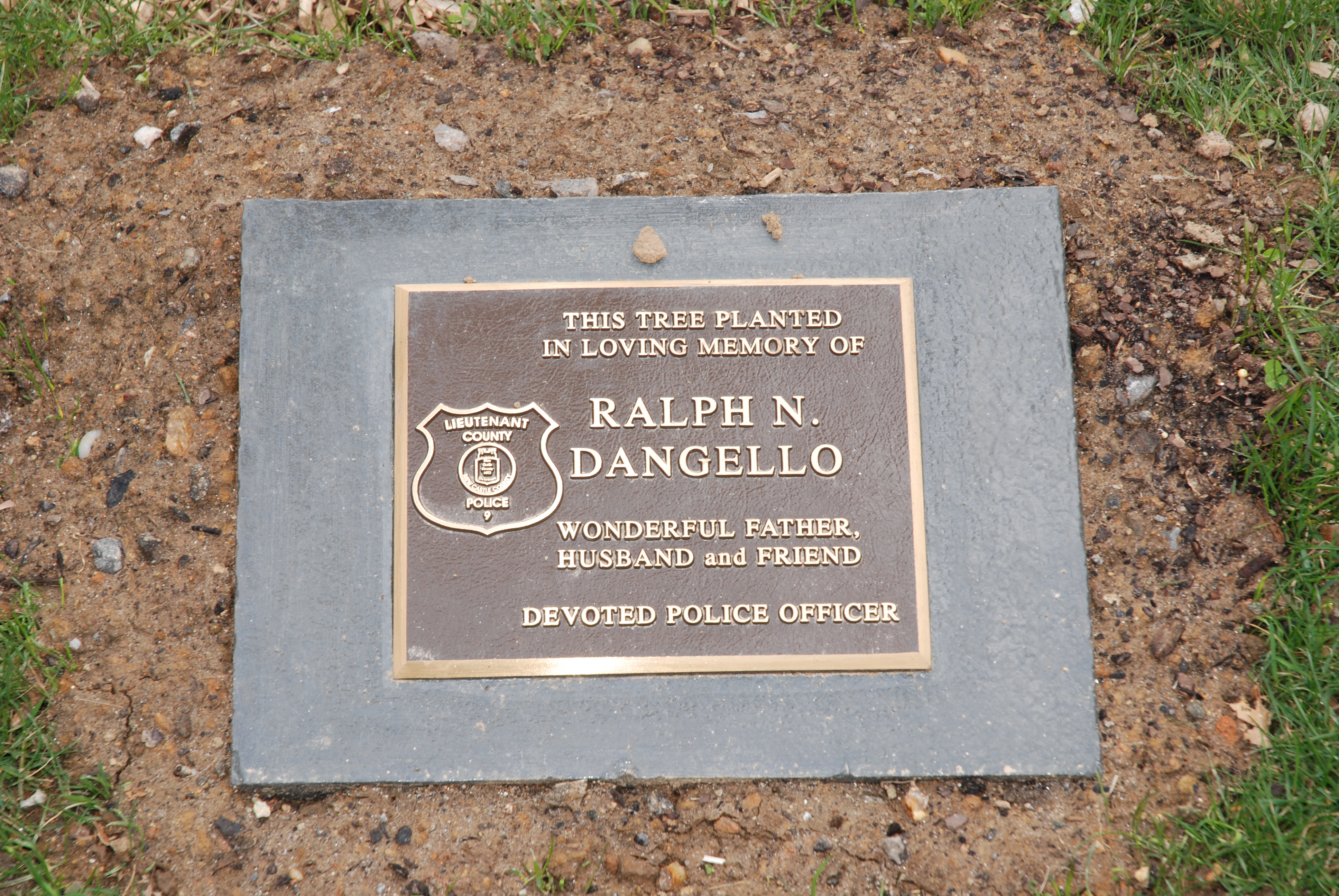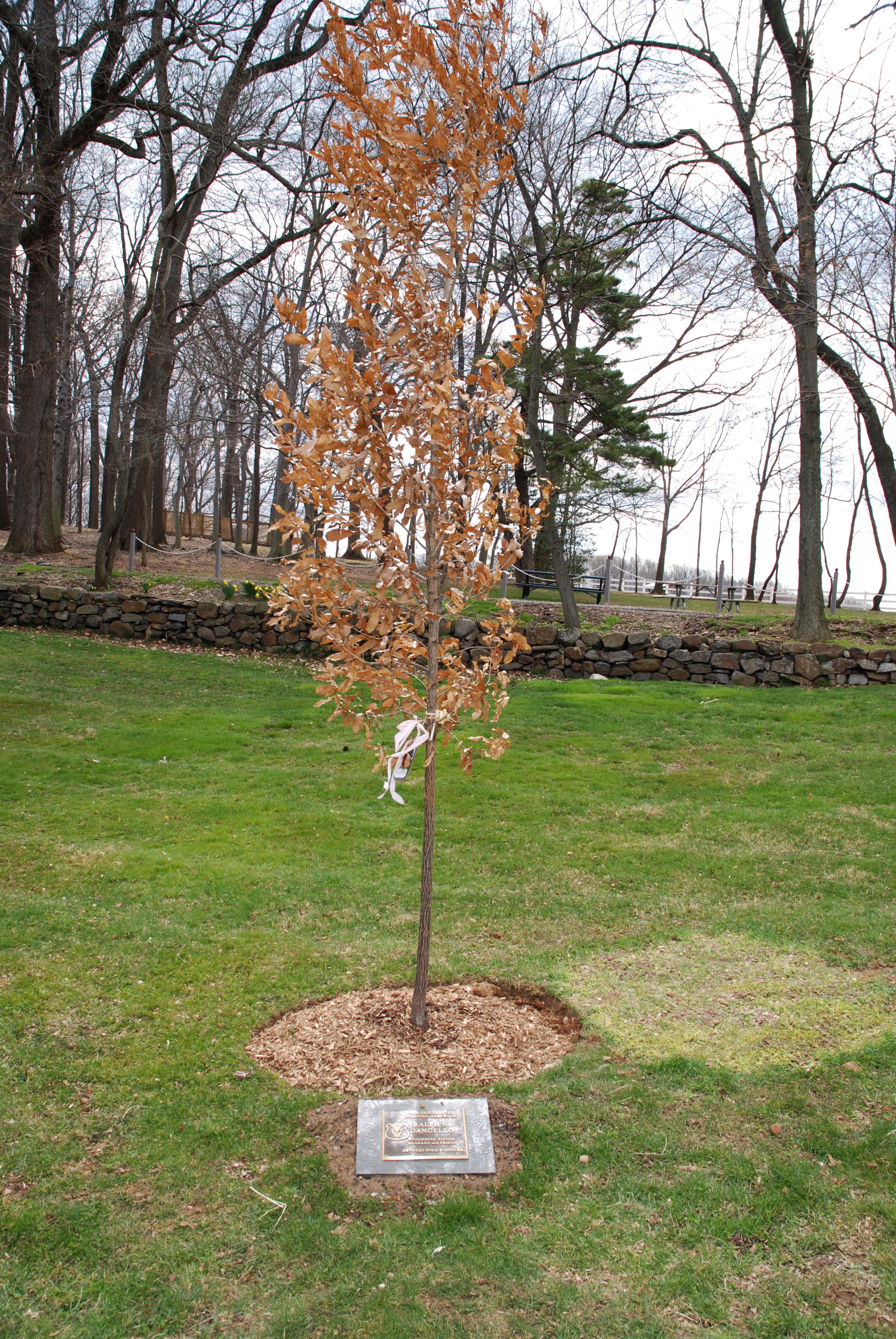 The passing of Harry Hitch
Susan Lawler notified me this morning that Harry has passed away. This is F Y I...
********************************************************************
"I received a phone call from Harry Hitch's son, Barry.
Harry died peacefully on April 5th.
If you wish to send an announcement out to your group, that would be nice.
Mrs. Hitch is at 2009 NE CR 150, Madison, FL 32340"
In Lieu of flowers, the family suggests contributions in Harry's memory to the General Fund of the Pine Grove Baptist Church, 4084 NE Rocky Ford Road, Madison, FL 32340.

On Tuesday evening June 27, 2006 at the New Castle County Council meeting,

one of our own Alumni members was honored for his work

with Lodge 5, the Alumni, County Council and the Community in general..

The below Resolution was read before

the entire Council, News Media and attending citizens

....as well as a very surprised recipient.

<![if !mso]><![endif]>

<![if !vml]>

<![endif]>
Introduced by: Mr. Clark
Co-Sponsor(s): Mr. Bell
Introduced on: June 27, 2006
RESOLUTION NO. 06-147
TRIBUTE TO MIKE RILEY
WHEREAS, Mike Riley began serving the citizens of New Castle County as a County Police Officer in 1967 and proudly retired as a Senior Sergeant in 1987; and
WHEREAS, Mike coined the motto of the New Castle County Police Department Alumni Association, "Retired, Still Serving"; and
WHEREAS, after retiring from the New Castle County Police Department, Mike remained involved in County Government; and
WHEREAS, Mike is well-known for his photography skills and is often seen in Council Meetings taking pictures during special occasions; and
WHEREAS, Mike has unselfishly volunteered his time assisting the Red Kettle, the Basket Brigade and Meals on Wheels; and
WHEREAS, Mike kept Council Members apprised of upcoming charitable events and was always there taking pictures of Council Members giving back to the community; and
WHEREAS, when President Bush signed the Law Enforcement Officers Safety Act of 2004, Mike developed the prototype program, which was adopted by the New Castle County Police Department. Mike's program qualified over 60 retired officers as certified firearms specialists. The New Castle County Police Department was the first department in the State of Delaware and one of the first in the country to enact the federal legislation; and
WHEREAS, Mike has always been an active member with the Fraternal Order of Police Lodge 5 and the State Lodge of the Fraternal Order of Police volunteering his time as a webmaster for both Lodges; and
WHEREAS, the Fraternal Order of Police Lodge 5 named Mike "Member of the Year" in 2002; and
WHEREAS, in 2005 when numerous police officers were activated by the National Guard to serve in Iraq, Mike kept our officers in Delaware in touch with their fellow officers serving on active duty through emails and photos from the front; and
WHEREAS, Mike's unwavering dedication and friendship to Members of Council will surely be missed as he begins a new chapter of his life in Phoenix, Arizona.
NOW, THEREFORE, BE IT RESOLVED: That the Council of New Castle County hereby thanks Mike Riley for his commitment to the citizens and organizations of New Castle County and wishes him well.
Adopted by County Council of
New Castle County on: June 27, 2006
Paul G. Clark President of County Council
New Castle County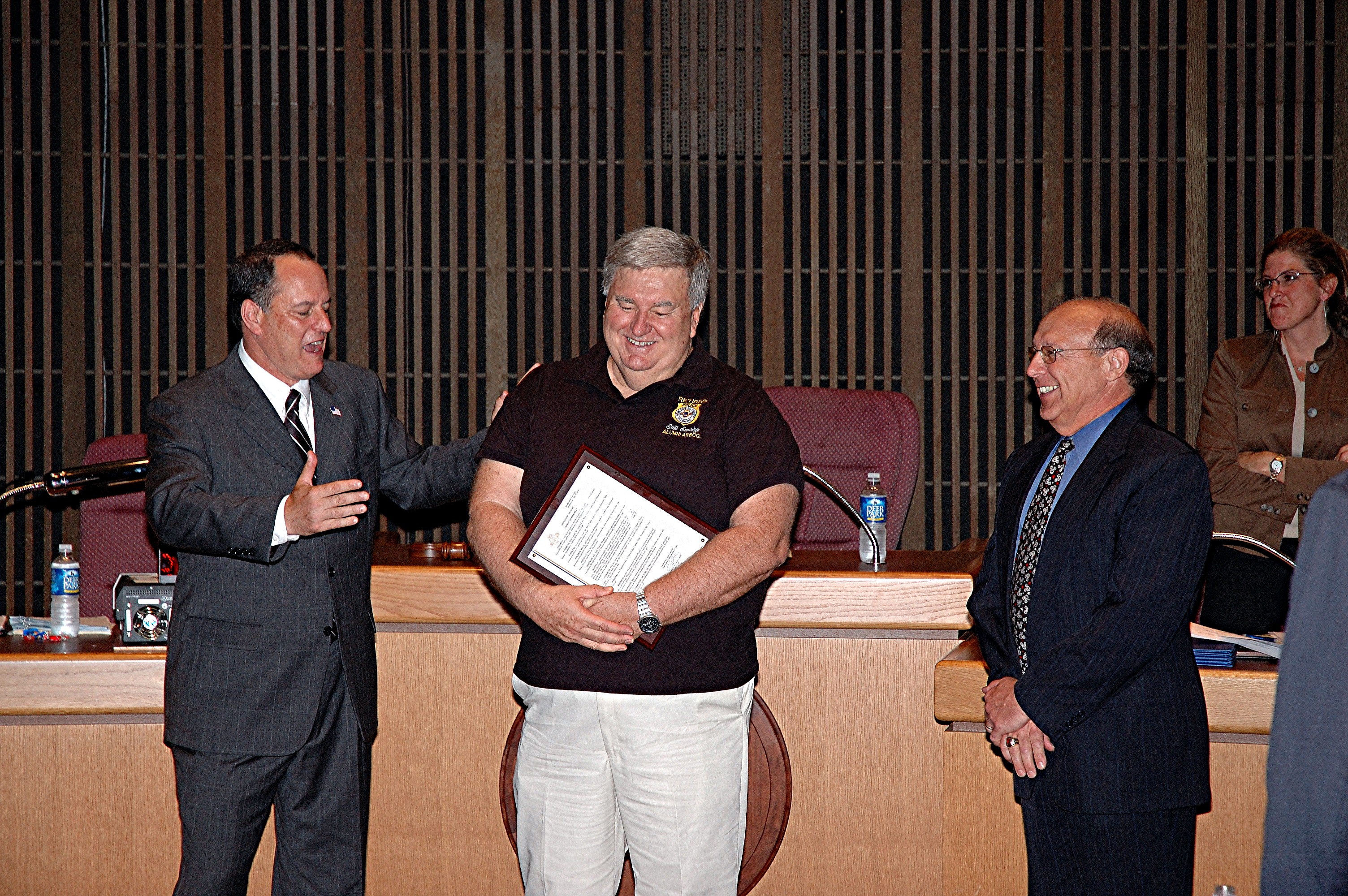 County Council President Paul Clark, after presenting Mike Riley with the Resolution, explained to everyone that he actually met Mike for the first time when Mike drove his opponent for Council President around from poling place to poling place in the Primary Elections.
But in true fashion Mike rallied around the new President and has become great friends and a staunch supporter of President Clark and all the Councilmen and Councilwomen.
"This was a total surprise Tonight", Mike said. " I came here tonight to offer support for our Active Officers on a subject... or so I was told."
"This is so nice and I really appreciate what Council has done. It has been a real privilege to work with such a professional group. I will miss you all"

(article by: Mike Riley)
Impromptu "4 Squad Squad-Party"
On Friday, June 23, 2006, Olie Slaughter and his new bride
returned to Delaware from his home in Florida
and set up camp at Lums Pond.
It didn't take long for the word to get out and someone suggested an old fashioned "squad Party".
Even though it was the start of a week long rain extravaganza here on the east coast some of the old guard turned out... and boy did we have a good time. I don't think I have laughed so much in years. Some of the old stories that came to light would floor you. Thank god for the "statue of Limitations". We covered everything from "laugh boxes" to repairing damaged patrol cars on midnight shifts to pulling guys out of ditches when they were riding somewhere that they shouldn't have been. That was a brotherhood and I believe it still is. We've been through a lot and as a new department back then we did very well for starting our County Police. We had a lot of talent and a lot of good times.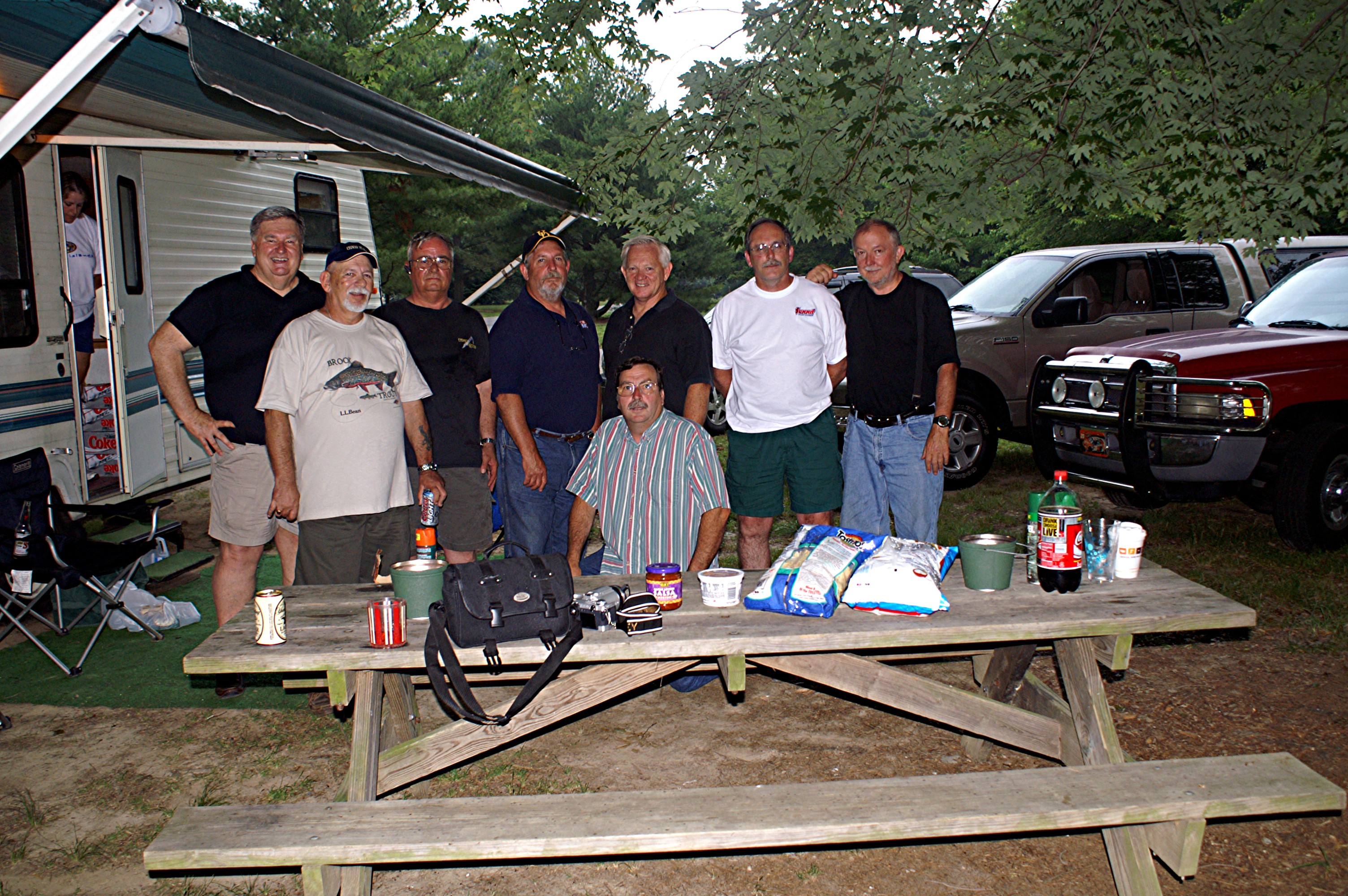 From left to right...
Mike Riley, Olie Slaughter, Chuck Stirk, Pete Kotowski, Rich Harkness, Mark Sweetman, Bill (OJ) Johnson and (too old to get up) John Haug. Bill Gore had just left when this was taken and Cliff Truitt was parking his car and missed out on this rare opportunity to pose with Olie. Olie is still signing autographs from his long running murder case that you can catch on Court TV.
(same TV case has run 22 times... how does he do it?)
Notice the new wife hiding in the doorway... she really wasn't sure if it was safe to come out with all these crazy people in her yard.